Dinner Socials
The AKMC Dinner Social was created to keep in touch with other members over the winter months. It is a simple 2 hour dinner usually from 7-9 PM at a location chosen and hosted by a member who participated at the last Social Dinner. OTMs are usually welcome because it will be cold and snowing by the time these events start. Over the years we also hold dinner socials when other Miata clubs visit us in groups and have no Miatas. We have hosted 2 dinner socials to Moose's Tooth since it is the best pizza in Anchorage and ranked #3 in the US by a travel magazine in 2015.
O'Brady's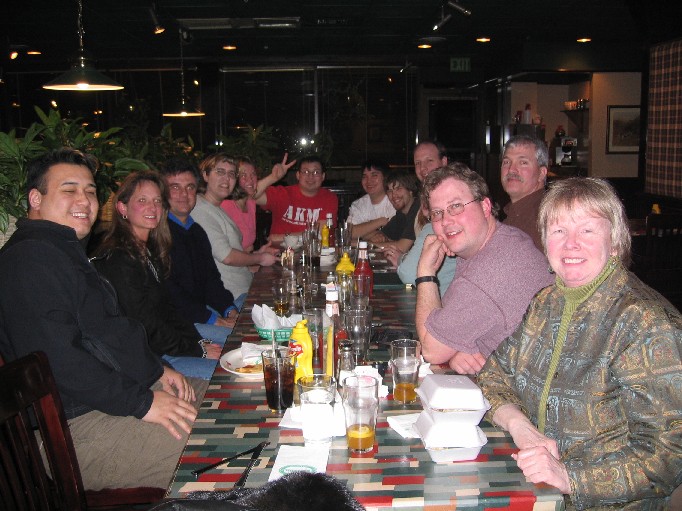 This was the largest social dinner at the O'brady Tudor location. So many members showed up we had to rearrange to furniture and still relocate to another section. The food was American cuisine and was pretty good and dessert was yummy too.
Little New Orleans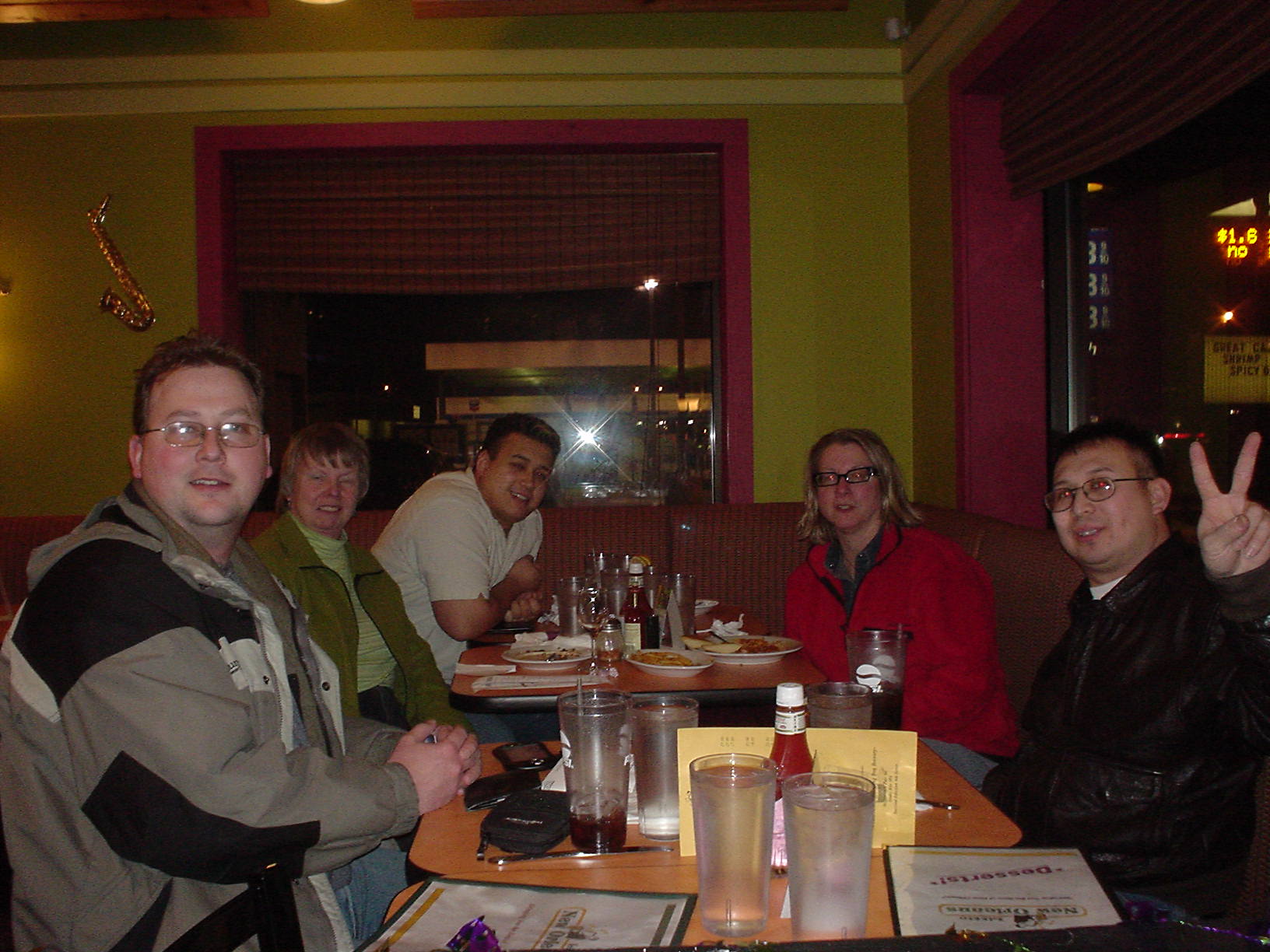 It was great to see everyone who dropped by. We got the latest from Jeff, his new motor, and the $50 BMW "beater". Tracey told us more about herself and plans of moving to Vermont this February. If you never met Tracey, she owns Junior, a 1989 Red which is the first Miata in Anchorage. She used to autocross and donated her collection of Miata Magazines to the AKMC. Thank you, Tracey and good luck from all of us. Marilyn, Mike, Jeff, and John were present. Special thanks to Kristi for taking the picture. The food was very good and the ambiance was peaceful. Perfect for a wonderful winter gathering.
Qdoba
The first Qdoba in Anchorage opened on Northern Lights and we decided to try it out together. Ron and Noel, Alex, Mike, John, and Bruce all participated. She is not in the picture but Olympic Bronze Medal winner Kiki Randall was here too. The burritos were great and square. Another interesting thing about this social dinner is there were a nice collection of Miatas in the parking lot.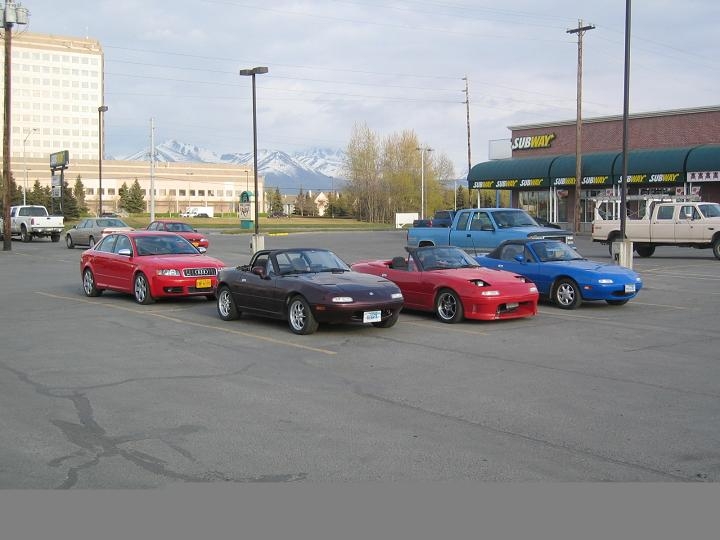 Noel's S4, KOOPA, JENNY, and BLUEBIRD
Moose's Tooth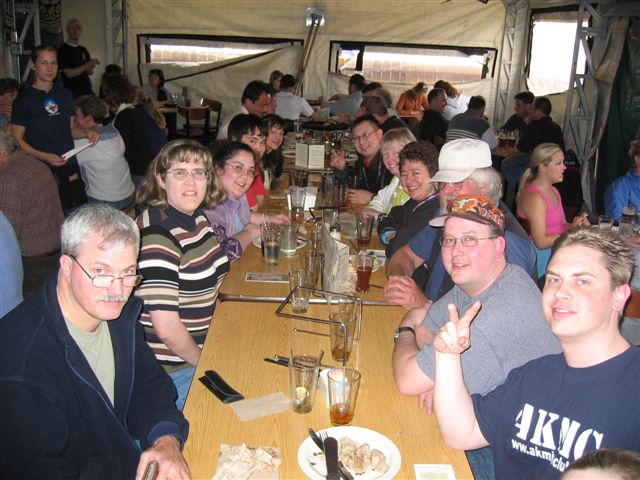 Wow! The Moose's Tooth was more like a bar! The AKMC represented taking up the middle section and having a great time. It was nice to see everyone especially Michelle, Mary Ann, and Terry. The food and company was nice but we must start reserving as we are averaging over 10 people at these dinner socials. Special thanks to Meera for her wonderful event.
Red Robin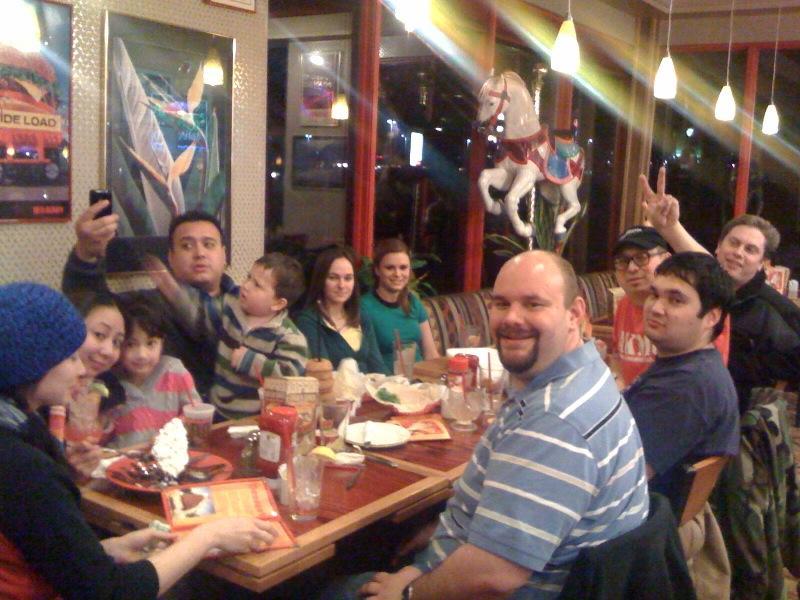 This social dinner was hosted by Chris who is also a manager at this Red Robin. Chris was the only one who drove a Miata, CONNIE a silver NB. He ordered lots of appetizers and we all ordered our favorites. So there was tons of yummy food. The surprise turns out that half of my family joined us making it a small farewell party for my sister moving to Kansas. Clockwise from the left is my sister Apple, my sister Leilah, my niece Angelina, brother John, nephew Josh, Lea, Payge, Alex, Mike (Me), Jon, and Chris. Thanks to the hostess for taking the picture. We wished more of you came out.
Moose's Tooth with the Bluebonnet Miata Club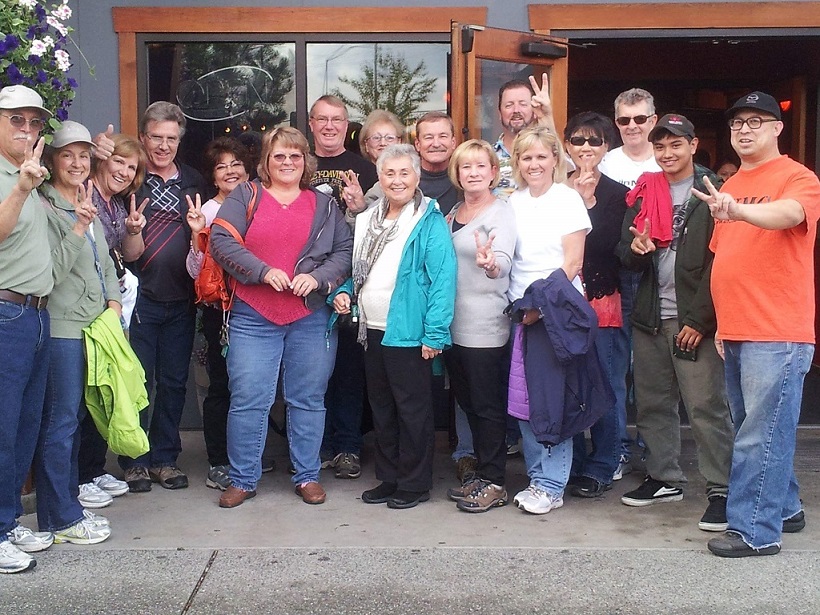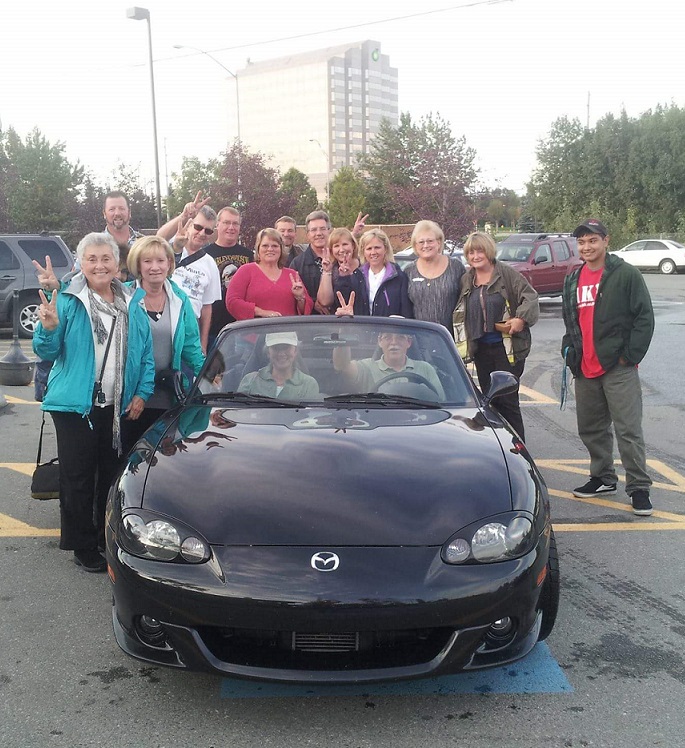 Moose's Tooth 2015 with the Canadians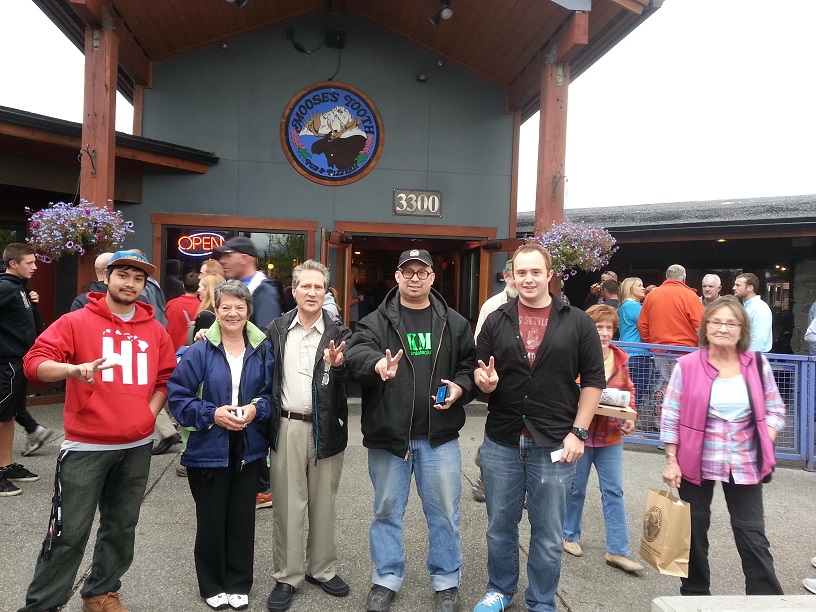 First of all, let me apologize for the long wait at the Moose's Tooth. It is a lesson learned and will never happen again. Maybe I should have figured out why we never get to park the Miatas together. Miatas that were present included ESMERALDA, CONNIE, 91 BRG, Red NA, Teal NB, and ROSIE. That said, thanks to the AKMC members that waited patiently with the group and got a chance to meet our guests Steve and Majella from Canada. They drove their 1991 BRG from Vancouver. We definitely had the chance to talk Miata for at least an hour.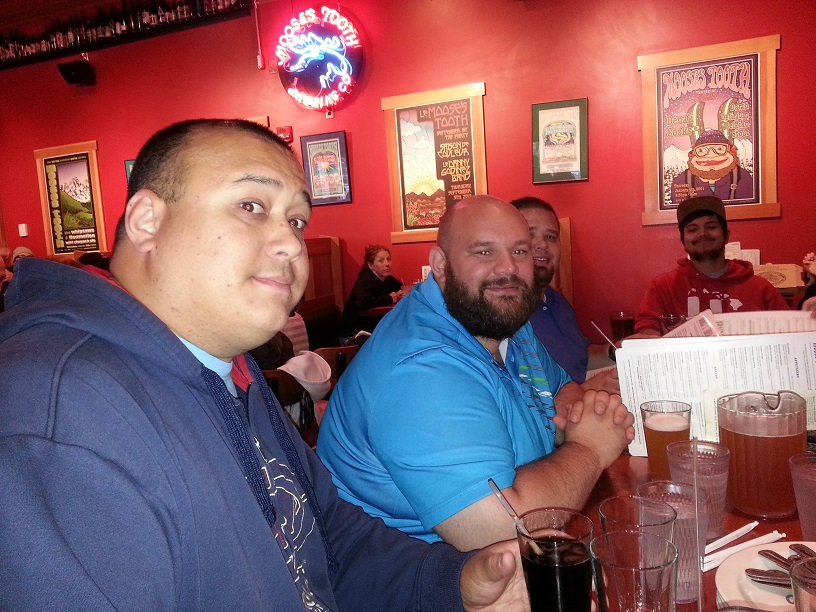 After getting our seats we ordered our drinks. We ordered Apple Ale, others tried specialty beers, and root beer. Thanks to Chris and Nate, and John for choosing the appetizers. Apparently, our server was my sisters ex. LOL! What a small town. I love Anchorage. We decided to order three large specialty pizzas, the Seafood, the All American, and the Brew House Favorite.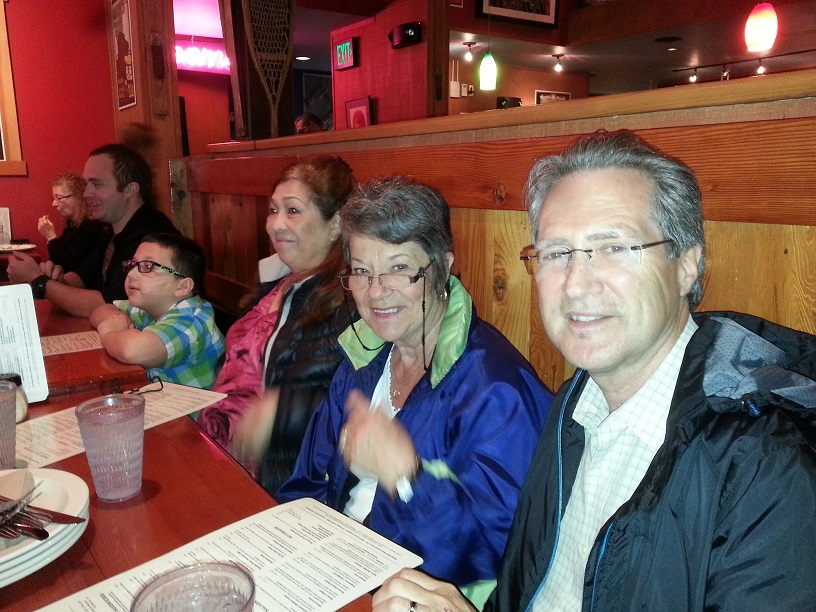 Meet Steve and Majella, retired couple from Newfoundland, Canada. They plan and travel long driving trips in their BRG BABY then store it continuing the journey after flying back home. Sounds like a great plan! From Newfoundland to California, to Vancouver, to Alaska. They will be storing their BRG BABY at a local storage facility in Anchorage until they figure out their next destination. Once again, I know why I love Miatas so much. You get to meet wonderful Miata people from all over.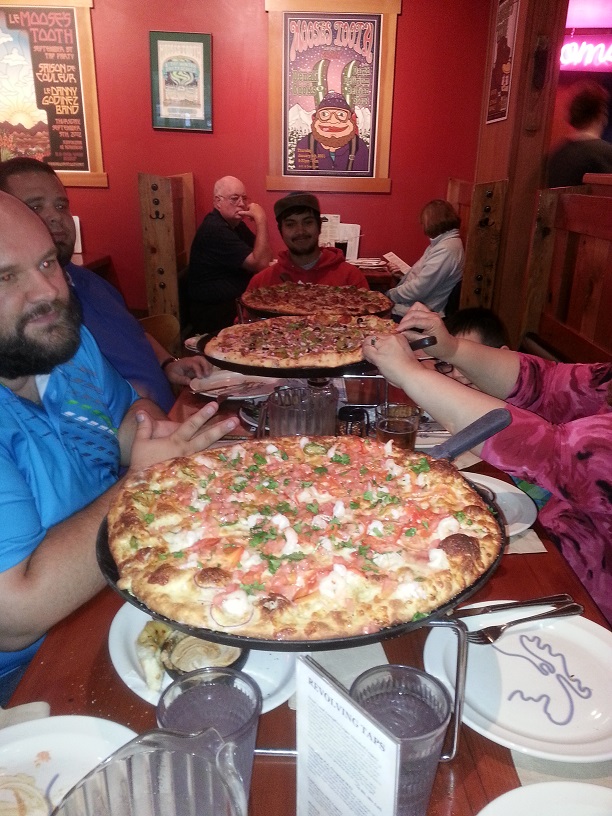 The spread. So, finally eating and more drinking with everyone feeling much happier. Out of no where, Steve challenged the whole table by tapping his new AKMC coin. It was crazy! Unfortunately, Chris left his coin in CONNIE. Special thanks to Chris, Nate, John, Joshua, Kelby, Justin, my mom, Steve, and Majella for having a wonderful social dinner. We also met Kazue, Mike K, John B, and Cory who were there with family or friends. Lots of Mazda swag was passed out to all. We hope to see you at the next joint event on July 25th at Eklutna with the Valley Trash Cars (VTC).