HOME
ABOUT US
CONTACT CALENDAR
MEMBERS AND MIATAS
MIATA FREAK
AK OR BUST
REST IN PEACE
LINKS AND FAQ
The Alaska Miata Club website is owned by the AKMC.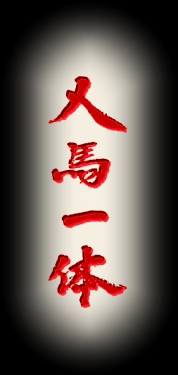 GYPSY Stolen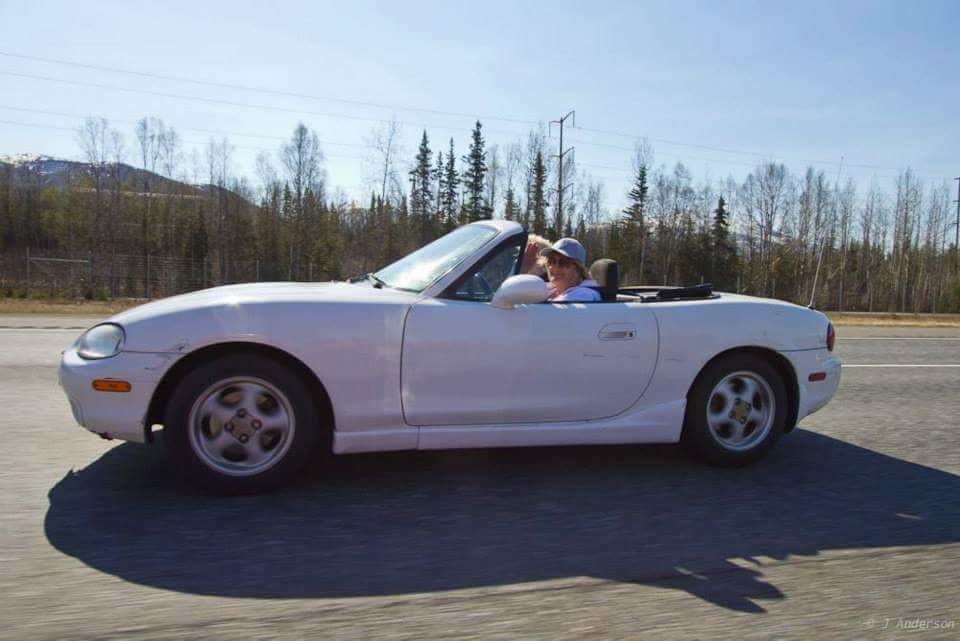 If you see a White 1999 Mazda Miata with plates ELB 651 cruising around or if you spy it hidden in the valley please call the police or the troopers. GYPSY was stolen 5/14/17 and probably has a torn soft top from the theft. The AKMC will have a reward of a $100 for any information which leads to recovery. She is a 5 speed, NB1 front end (smiley face), the top may have a huge tear and/or the ignition will be messed up from the theft. Good hunting!
Miatas and Kaladis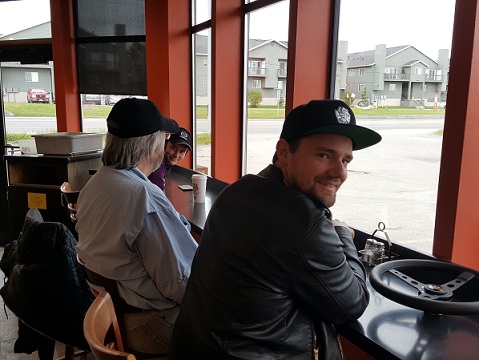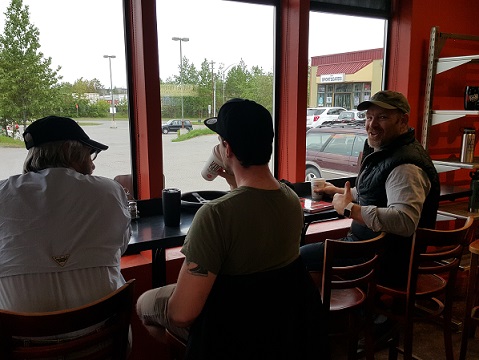 Way too early and cloudy at the Delarosa Kaladi on 100th and Old Seward. Only 1 Miata with Mike and Troy little before 0800. Until Bob and Mocha came in DAYTONS. Then it was Jerry and PANDA. Finally, Kevin and MARCELINE making it clear to the Kalaldi baristas that this was no coincidence.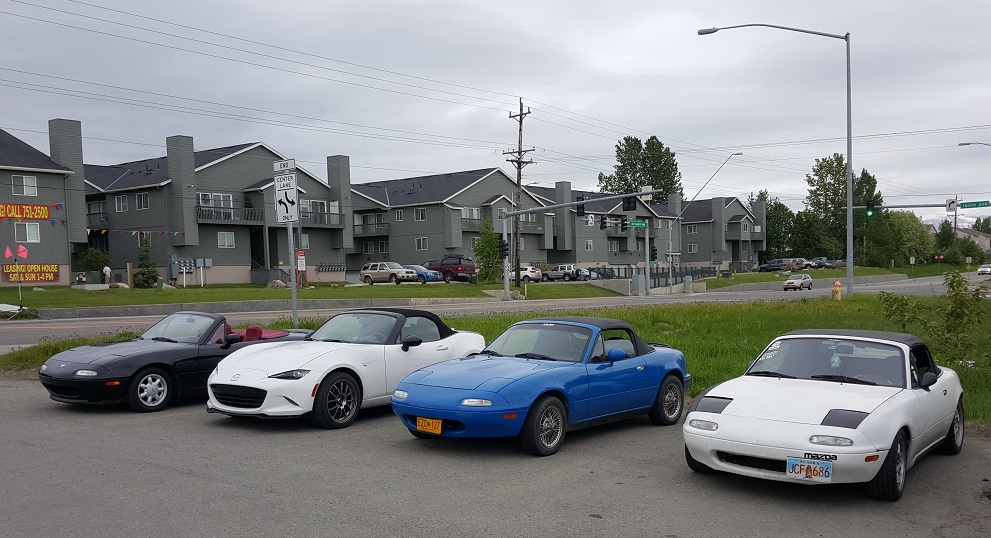 We drank our hot chocolate, mochas, lattes, and frappes and were struck talking about our little cars. We even went outside to talk about them all the way until after 10 am. We will have another as I still have plenty of Kaladi Brother's Coffee gift cards to give out. So, until then. Peace!

A Full House!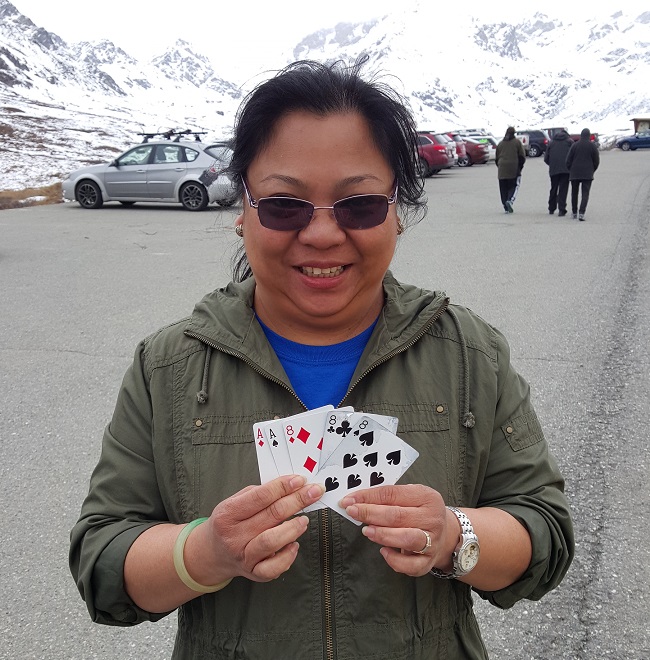 AKMC Member Marie is this years winner! She won $20 cash and $25 Kaladi gift card. It was a full show with two members changing their minds from sending us off to joining us for a run of Poker. Special guest star Roscoe from Fairbanks also wanted to check out a run before going to a wedding in Wasilla. Why not? It is on the way.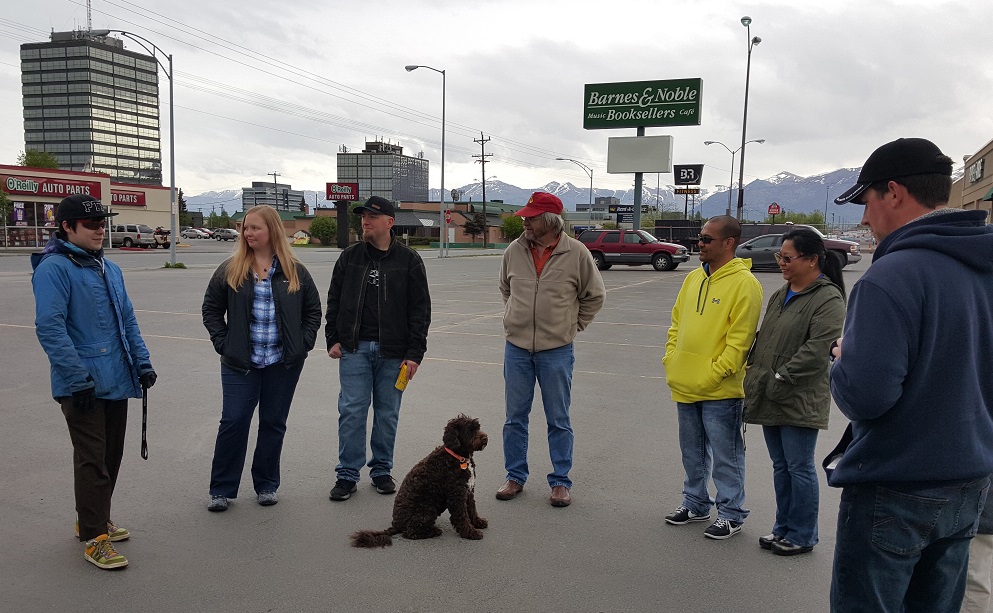 Lots of people at Barnes and Nobles a little rain wasn't gonna stop 'em. From left to right is Roscoe, Allison, Jacob, Mocha, Bob, Vember, Marie, and Ryan. Who wants to add money next year? Or do you just want free prizes? LOL.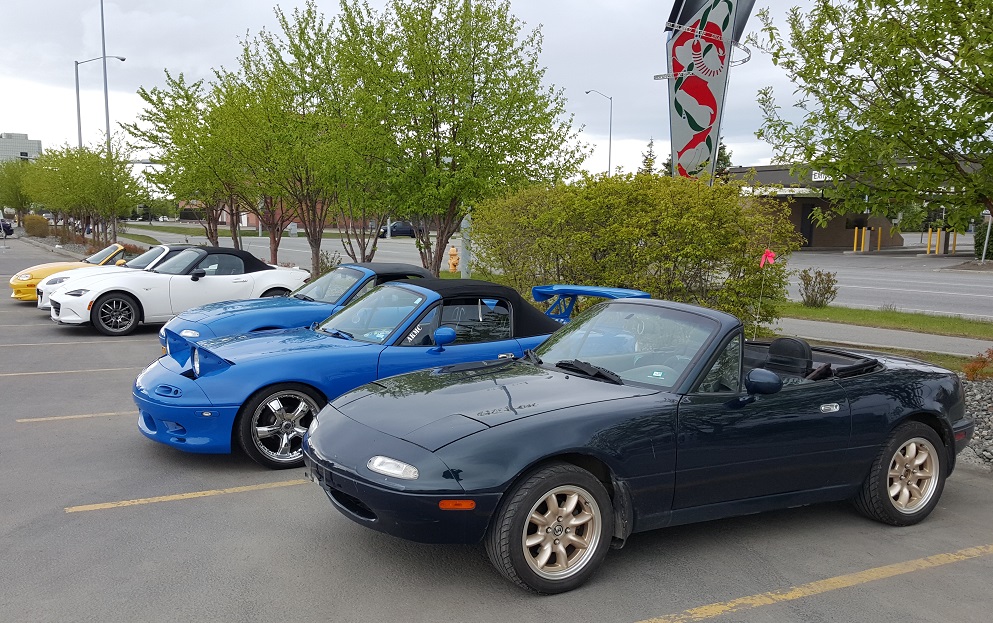 This is Roscoe's Miata, TENOR1. He was a little late to his wedding in Wasilla. I hope you didn't miss too much. So 2 Blues, 2 Whites, 1 Green and....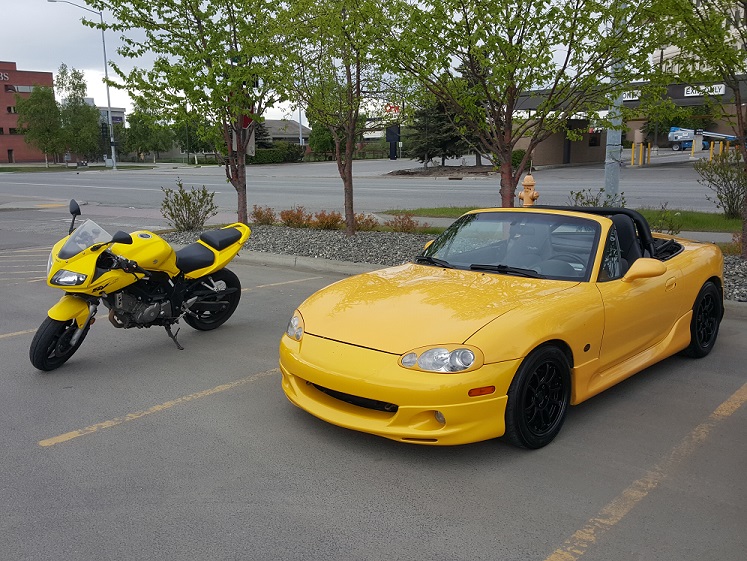 2 Yellows. We had a full gen of Miatas and even a motorcycle. AKMC member Mike A has found his new love in the two wheeled fashion. He is even selling his Miata. This is his second motorcycle, a Suzuki GXR650. Take care Mike.

Hope Run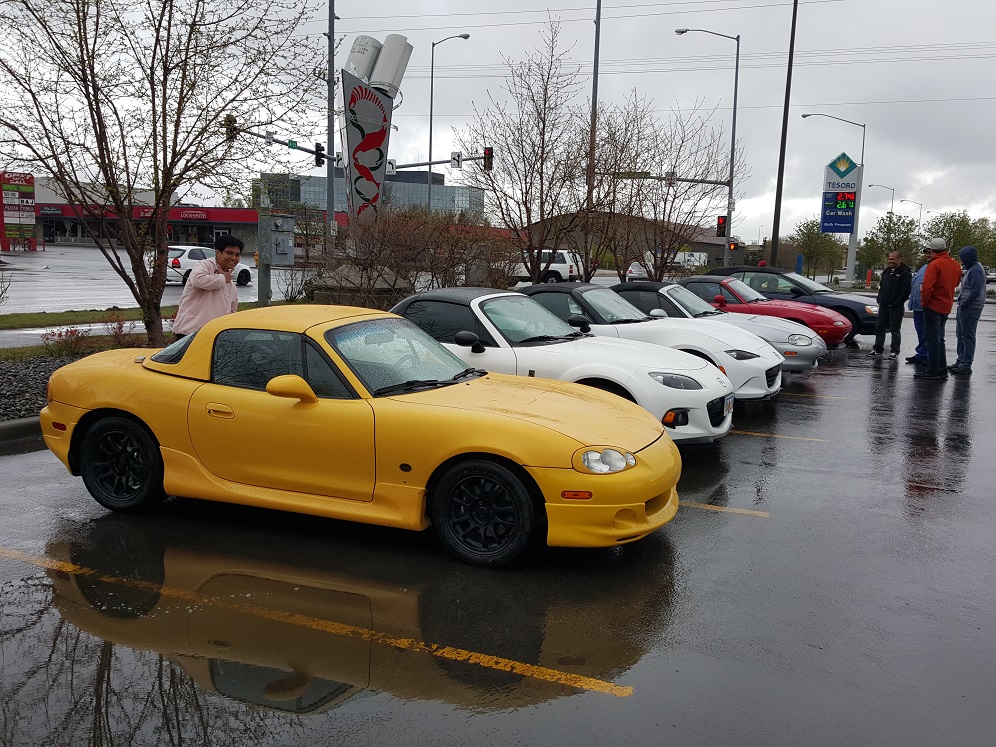 Cloudy and raining at Barnes & Noble for the Hope Run didn't look good. As I waited in the car the windows started fogging up due to the humidity. Then a bright Velocity Yellow NB parked to my right. It was Ryan, the new owner of 2002 SE finally an AKMC member. He said that when he bought this Miata for his wife that it was in bad shape. Eventually, with the addition of a Hard Dog roll bar, Wilwood brake kit, and some FM stuff he started enjoying it himself. Ryan's daily driver is an STi and although better in Alaska as an overall vehicle was just not as fun. After him Jacob stopped by to send us off with this white NC Club. He has a prior engagement with wife at a beer tasting. For a while we were talking Miata in the rain. I passed out more swag that came in last week. Chris B. stopped by with CONNIE and her new shoes and was rearing to test them out in the wet. So, apparently we were definitely going. The Miranda family brought 2 cars, Vember Jr's RUSH and Vember Sr. Mother's Day present to his wife, a Chrysler Sebring Convertible. To top it all off, Chris K showed up with his orange Mustang and a new girlfriend with child. As we left a red FB started following us all the way to Hope. I let him join the caravan en route. The FB sounded great but wondered how much gas mileage he was getting.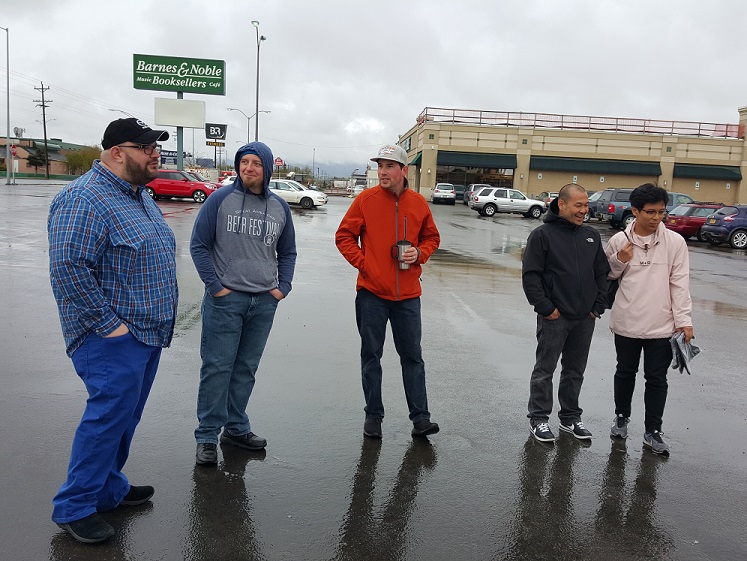 It was a slower drive than normal as there was traffic on this dreary day. Then, lots of Alaska State Troopers. I had one following me all the way to the train station. It started making sense by the time we hit the 45 mile an hour speed limit for all the Hooligan fishermen. It was that time again in Alaska. Chris did a great job leading us to the Discovery Cafe with no problems. Well, at least until we got there. It was either a Mother's Day Special or they just redid their interior with less seating space and a new menu. This was the weird part of the afternoon as the group was split. One group inside and the other outside. I had to keep sitting in different areas to talk to all the members. After speaking with Mizani, the owner of the FB, he said that he was way low on gas as he didn't fill up on the way out of town.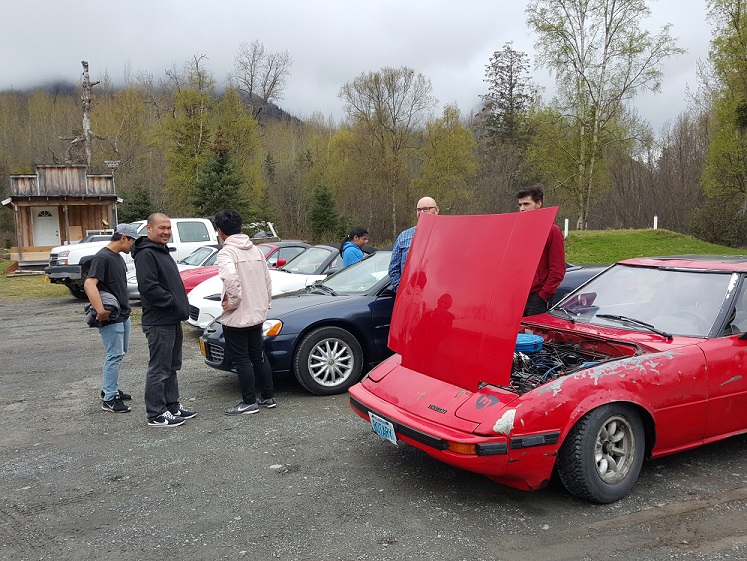 When lunch was finished everyone was released to enjoy time with everyone's Mother's Day plans. Chris B and CONNIE took off first. Mizani with the FB left with Chris K. in the Mustang to look for gas. I drove home with the Miranda family as we dropped the tops on our cars until the cutoff back to Anchorage. It was a slow safe trip back as the sun slowly came out and the rain stopped.

Ak Mazda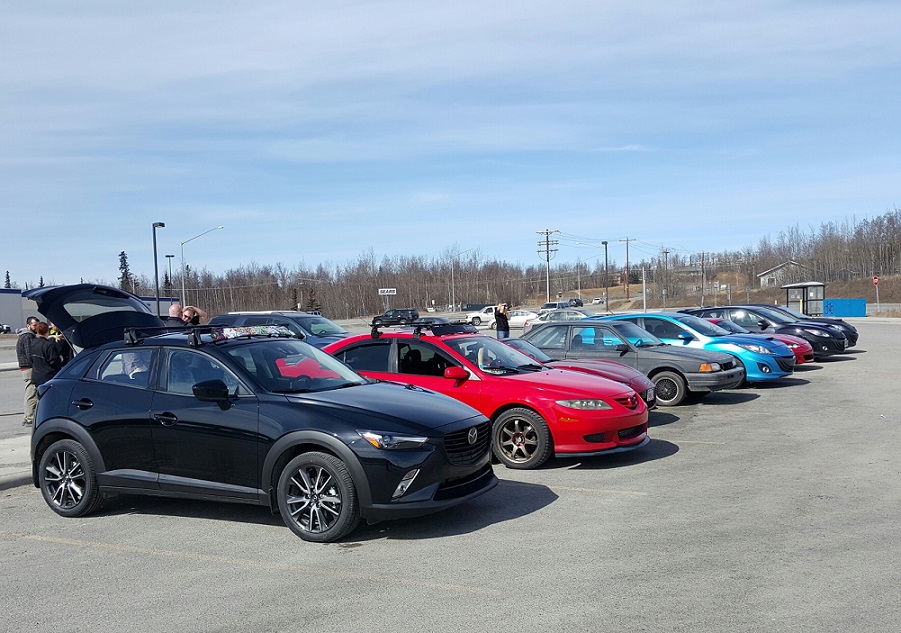 There is another new car club in town, Wasilla to be exact. It is Ak Mazda, an all Mazda car club. This one might stand the test of time as three Mazda enthusiasts Kassi, John, and Brandon decided to start a Facebook Ak Mazda group. Well, they were official in real life on Saturday, April 22nd when the Meet, Greet, and Eat event happened. It turned out to be a great day of weather, people, cars, and passion of a very special marque. The picture below was the last Mazda Club that tried in 2006 based in Eagle River.
The cars started showing up before the 2:30 pm at the Park and Ride off of Seward Meridian. Kassi promised cookies and parked her brand new blacked out 2017 CX-3. Brandon was there in his red Mazda6. John, leader of Mazdaspeed Anonymous, arrived with his crew of Mazdaspeed 3's. Mazdas kept coming in the next hour, a GTX, an ND, NA, a MSM, even a Subie showed up. All that was missing was a rotary of any type. All the people met and swag was passed out. It got a bit quiet after an hour and we decided to go eat lunch since all we ate was a cookie. We asked Kassi what else she had in mind because we were getting hungry. Kassi took charge and moved the whole meet to the Windbreak Restaurant.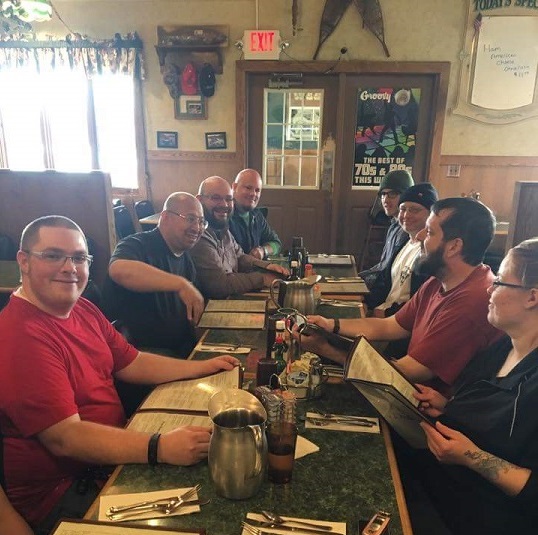 This was a good move as we were all seated together even if the cliques were still by each other. While we were waiting I suggested everyone to tell us what they liked about Mazda in general. The idea was to get everyone talking to get acquainted. We got all the good answers from fun to drive, aftermarket parts, looks, responsiveness, affordability, reliability, to cool owners. After that we asked what was the worst thing about the model we drove. The MSM3s complained about wrong wheel drive and torque steer. The Miata guys mentioned the girl car stigma and being challenged by Mustangs all the time. After we ate, which was a great lunch, we took it outside and opened hoods. I started sharing about the GTX, and then me moved to each and every model for the owners to share about their cars. I learned a lot that day. The key was to keep it Mazda. It was also funny hearing the Miata guys sounding like the prima donnas. We must learn to be humble and love 'em all. I wished the founders good luck. I offered my help to ensure Ak Mazda survives the early years. I offered the AKMC schedule for them to get ideas for this season. Also, to answer any questions regarding club activities, advice, etc. Long live Ak Mazda!

Miatapalooza 2017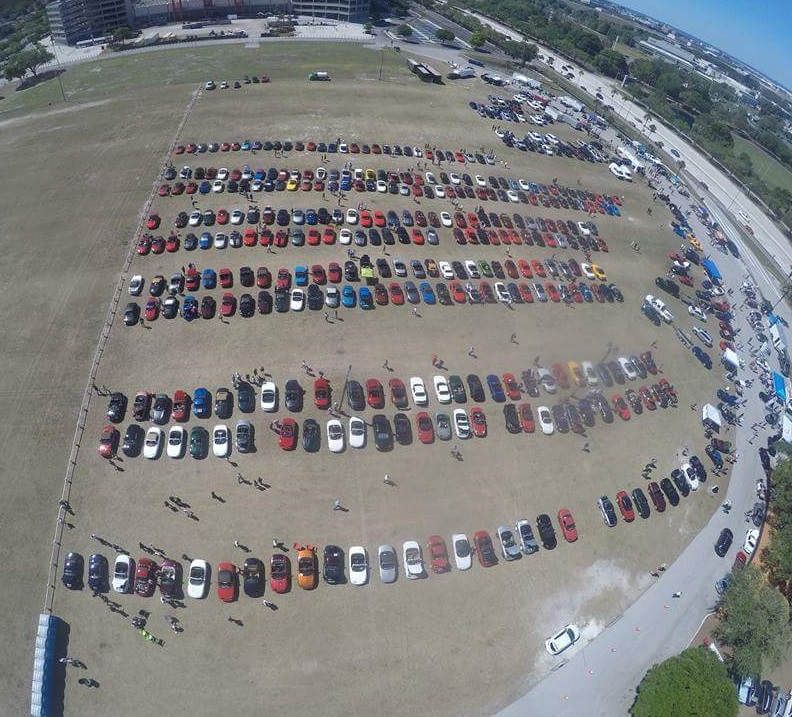 The first thing you realize when you arrive in Tampa, Florida is the humid heat. Coming from Alaska the additional 40 degrees was obvious and have been told that it isn't even hot yet. After speaking with Randy George the weather was a main topic for scheduling his main event. Miatapalooza would be a huge 1 day event in early April. This year it will be at Tampa Bay Stadium to hold the anticipated 700+ Miatas not only from Florida but the Southeast states too. April 8th, 10 am, $5 a head at Tampa Bay Stadium. The first 500 will get a goody bag worth more than the parking fee to help pay for the location. He has a DJ, lots of vendors dedicated to the Miata aftermarket. Also, lots of famous Miatas, owners, and club representatives. Including yours truly, Mazda Mike from the Alaska Miata Club(AKMC).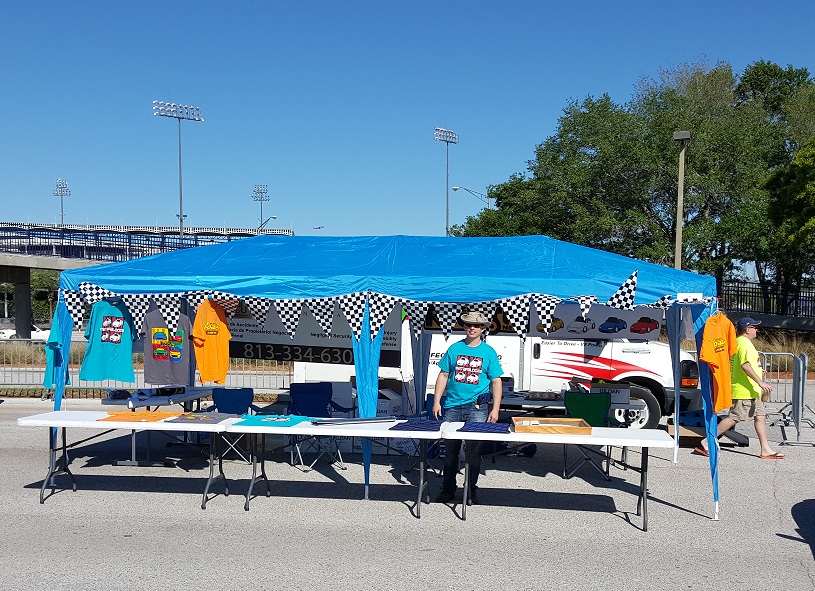 I met Randy, aka Phatmiata back in the 90's through the internet via Mr. Makoto Nakamura of the Kanazawa Roadster Club(KRC). Randy was big into JDM and everything Japanese Miata related. I was serving at Misawa AB, Japan and we kept in touch over the years. Finally, 15 years later we met in real life. Randy now has a family with wife and 2 kids. I am still single, getting fat and bald but we are both still enjoying the Miata life. Life is good and will peak at Miatapalooza 2017. Only good things will come out of Miatapalooza whether they are bigger and/or better. Now that the Miata is 25 years old and vintage it may get a retro surge to expand everyone's Roadster experience yet again. I will continue this report with pictures when I get back but if you are in the SE United States you have some time to plan and stop by to say hello at the Miatapalooza booth as I would love to meet you.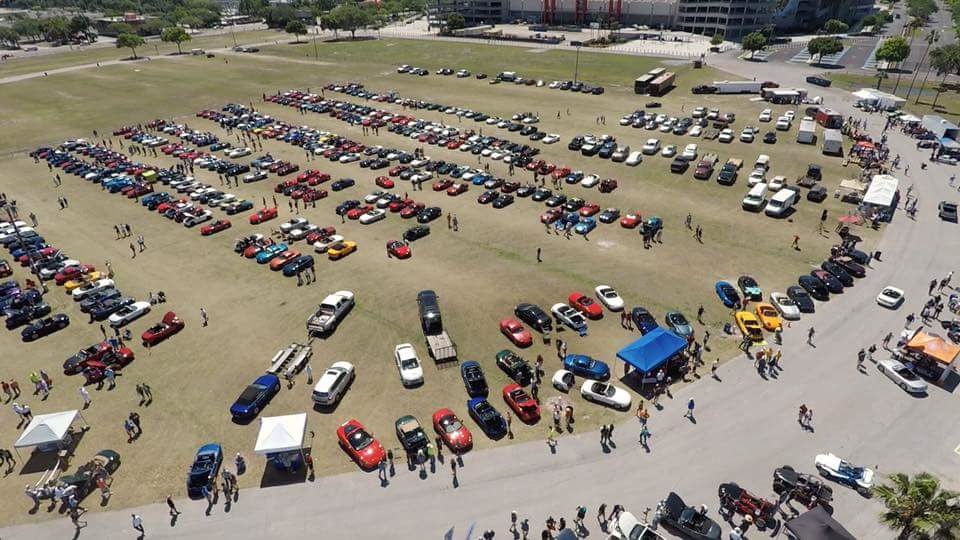 UPDATE: Miatapalooza was a huge success! Of course, there were lessons learned for next time. No, that is not official as of this writing. LOL! At the peak 650+ Miatas were present with about 1200+ peeps. The vendor side of Miatapalooza was strong with major vendors such as V8 Roadsters, RevLimiter, and RSpeed just to name a few. They even donated prizes for the raffle. The path to enter to park made you go through vendor row. Food and drink were available for sale, DJ music service, restrooms, and plenty of parking. Personally, I was busy selling T-shirts at the Mazdaroadster booth. Volunteers set up, directed to park the cars, help with booths, tore down, and cleaned up. Randy had volunteers in neon yellow Miatapalooza shirts and were easily visible. The weather was "perfect" as it wasn't "hot" yet but shade was still a want even with the cool breeze gently flowing. My experience saw the inner workings and realities of setting up an event this big. I saw what it could do to a person as it gets closer to the event. I want to give props and thanks to Randy, the vendors, the volunteers, and the fans that made Miatapalooza happen. Just look to Youtube for video, photos, and blogs to get a feeling for a wonderful weekend of Miata love. Special thanks to the stadium, insurance, local TV station, and local hotel.

Hot Wheels Blue Eibach ND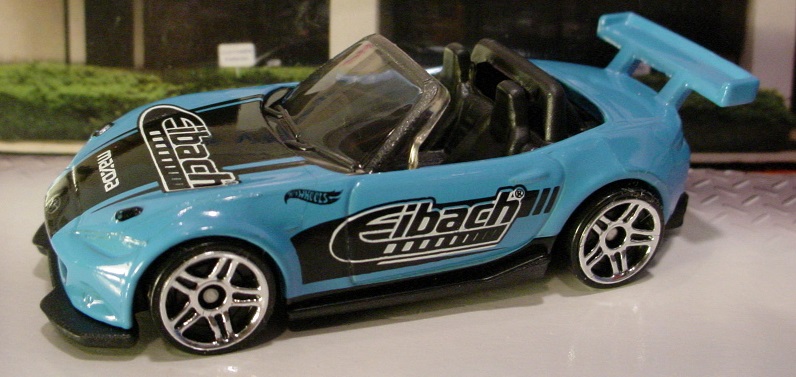 Hot Wheels has come out with its third version of the ND. This time it is Smurf Blue with the Eibach logo from the 2017 HW Speed Graphics collection. I was starting to think that Anchorage bypassed the yellow Volk as I have not seen any in town. Now, the blue one is out. I will have to scour Tampa, Florida when I visit in April for both paint schemes. Makes you wonder if they will stamp out an RF version with the top up? Matchbox, where is your 2nd color ND?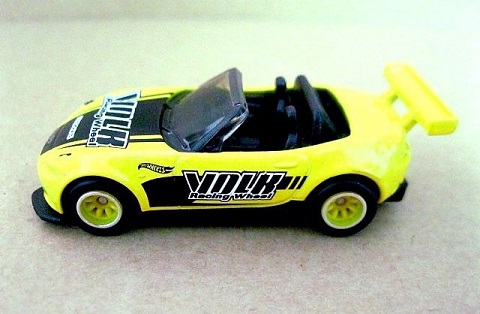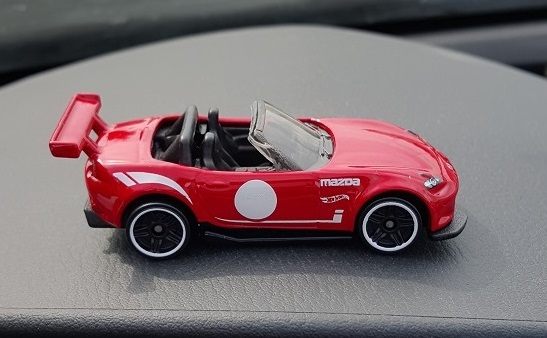 ND RF at Continental Mazda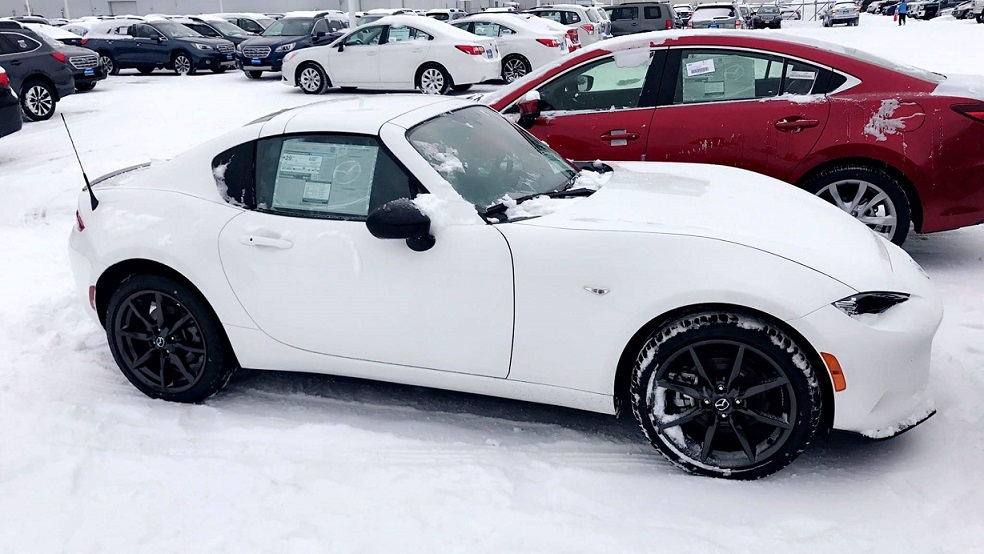 The first ND RF is at Continental Mazda on Old Seward. Someone special ordered it and will be gone soon unless they decline it. It is a White Club model. Cynder says another one is coming in. All these are special order by customers. Will it be a black RF? Did you guys want to see the RF as a group? Tell me on the Facebook Group Page and we could schedule a time to see it together.
Order Your FIATA at Lithia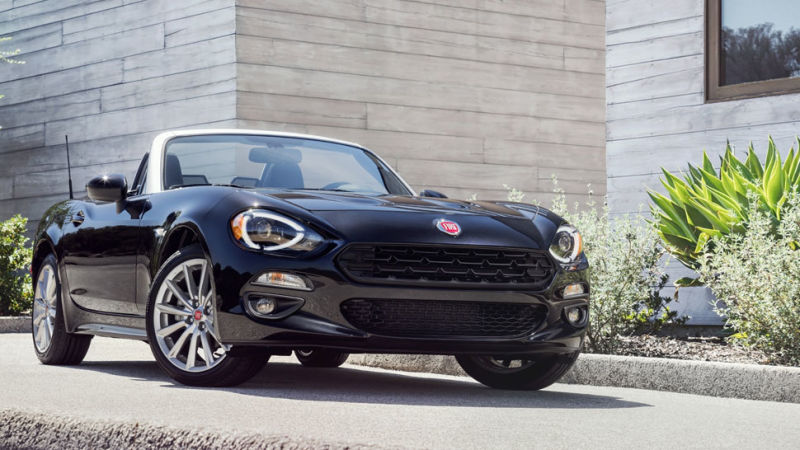 Lithia on Old Seward Highway is now selling Fiats and is taking orders for the Fiat 124. If you prefer the FIATA over the Miata you can place an order now. There is a 4 to 5 month lead time but you will make it just in time for this driving season. I wonder who will be our first FIATA owner in the club.

Speak with Matt and maybe we will be able to see one in real life if they have one ordered but didn't sell. I thought Kevin K would get the first one since he likes the body style. Also, he is first to get new cars. Keep your eyes open and don't forget to include our Miata peeps in different clothing and invite them to join us. All are welcome.
Trump Tweets Executive Order MX-5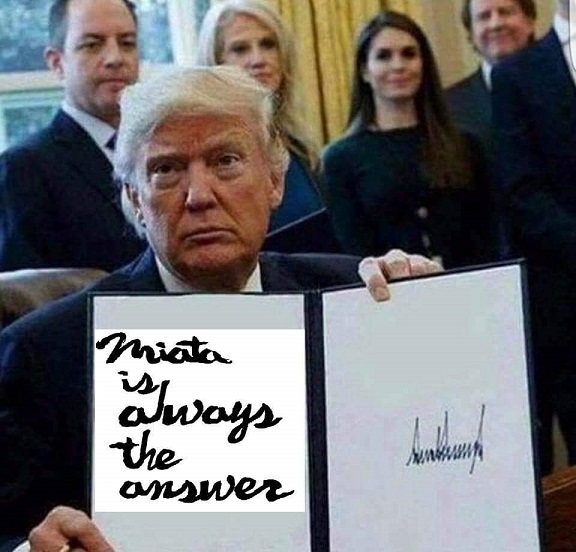 Even if Mazda is affected by Trumps new laws concerning trade we can agree on some stuff, right?
Miatagasm!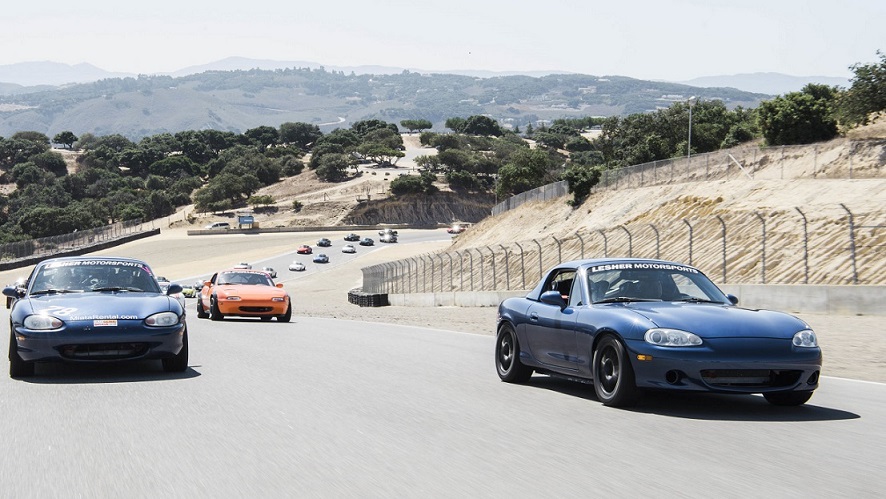 Check out this Road & Track article where a journalist test drives 19 different Miatas at Laguna Seca. It is a great blend of all the different ways to do your build. I don't think it was printed as it is in the Car Culture section. I have yet to buy the issue but you can read it online here.

Miata 10Best List Again
As if this was a surprise. Yet again, the Miata is in Car and Drivers 10 Best Cars of 2017. Just chock it up as another accolade for our darling roadster. Check out the article here.

Happy New Year!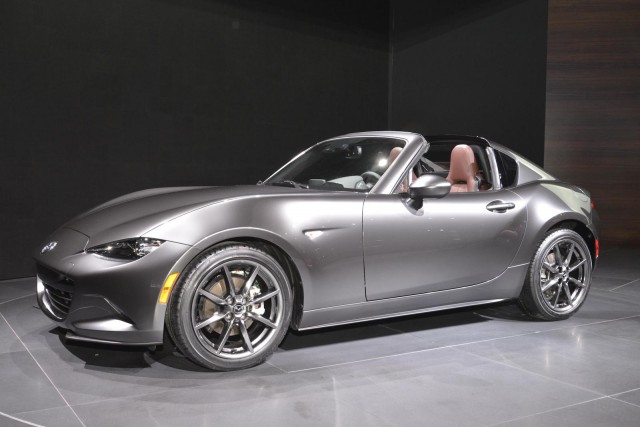 Boy! 2016 flew by. I hope you had a wonderful year full of excitement. The 2016 season was one of the best ever. Matched a club record, new fourth generation Miata ND, over a million Miatas sold, the first V8 Miata in Alaska, drone pictures and movie by Dan B, we were in the 4th of July parade, got published in auto motor und sport magazine, new Hot Wheels and Matchbox diecasts, and lots of Miata peeps modifying their babies.

Take this time to rest, relax, and reflect during the off season. Celebrate the holidays with family and friends. Think up and order parts you want to show off next season. What will the next trend be in 2017? Oversized fender flares seem to dominate all the body kits, rear bumper mounted wings, and a cambered stance for 2016.