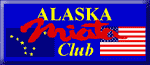 Home
ABOUT US
Start Here
FORUM
Bulletin Board
TEAM AKMC
Members and Rides
MIATA FREAK
Plates and Toys
AK or BUST
Tour Alaska
REST in PEACE
Lost Souls
LINKS
Special Thanks
CONTACT US
Anchorage Rep
Fairbanks Rep




The Alaska Miata Club website is owned by the AKMC.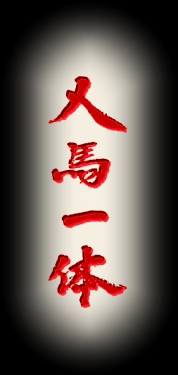 10th Anniversary Season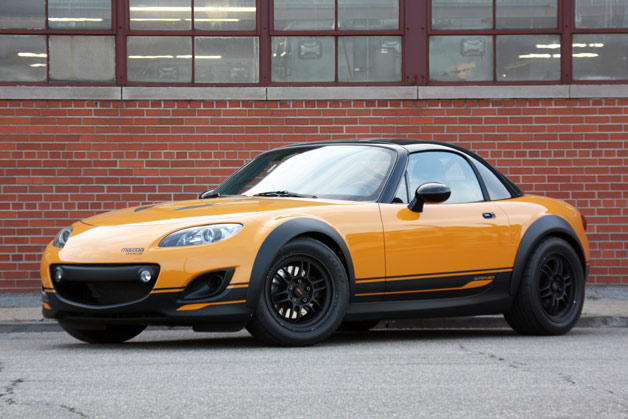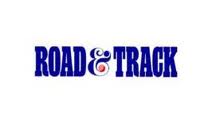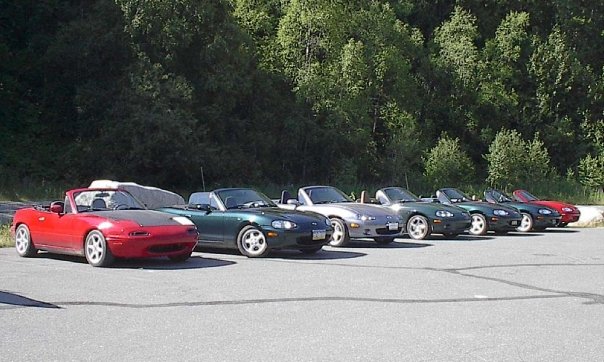 The Alaska Miata Club is 10 years old. Can you believe it? To celebrate we will have our normal events and a special 10th Anniversary Party starting on Friday, May 24th. This will be at Century 16 for a Miata Movie Night featuring Fast & Furious 6 in 3DXD. It will be the 7 pm show so arrive early to park all the Mazdas/Miatas together. We will be joined by the Mr. Brett Berk and his Road and Track crew to the movie. On Saturday May 25th the Hatcher's Pass Run with Mr. Berk's Mazda Miata Super20 will be joining us. This run will start at Barnes & Nobles NW parking lot at 10 am. Please check the Facebook Site under Alaska Miata Club events or call 907-952-0619 for more information.
OZINGA resurrected as a Monster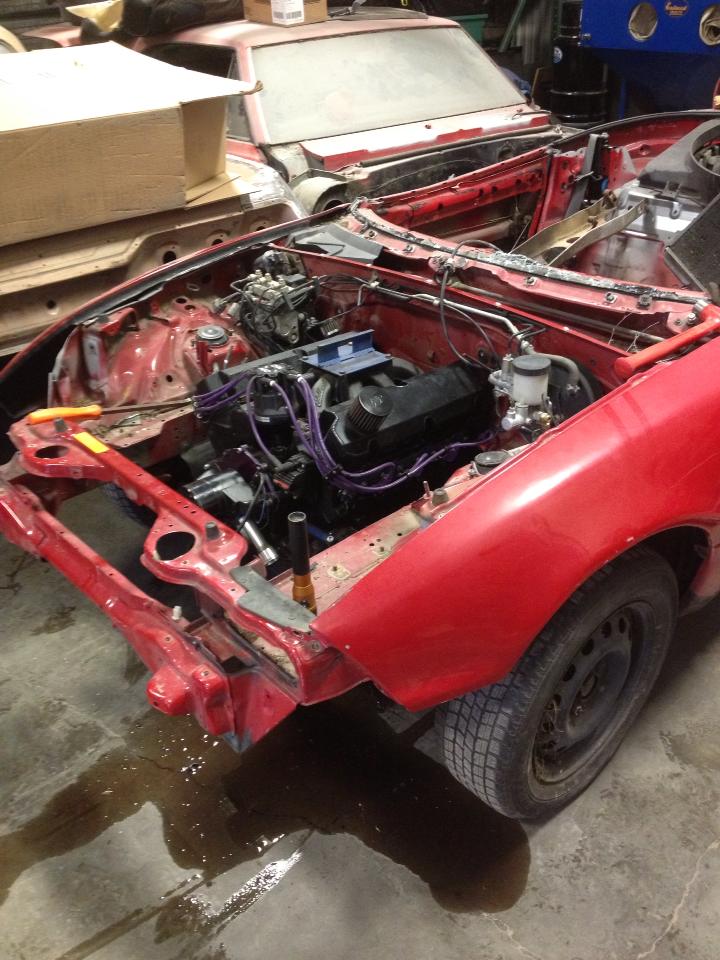 So I was at the grand opening party of Element Automotive on Ingra. I saw lots of people I haven't seen in years. One of those people was Kent Hamilton. As we started talking he mentioned that his brother Kevin, is building a Monster Miata. The most interesting part is that he is using OZINGAs chassis for a built 302 Ford V8. I spoke with Kevin and he was basically using Martin's design for a cheap build. I asked him if he had Martin's V8 conversion book. He said no, and I quickly got him the AKMCs copy. I can't believe that someone is finally gonna do it. I told him that the club would help in any way it could starting with lending him that book.
ND Preview of Front End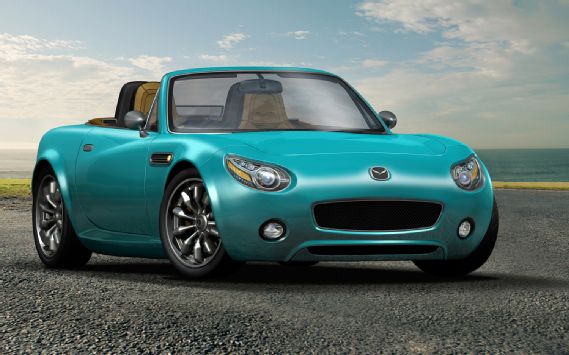 This is another rendition of the ND but the closest one yet as the front end was leaked from the US Patent office. Other information such as the 2.0 liter motor and 2100 lb weight were also mentioned. So, what do you think? Post up!
2011 Special Editions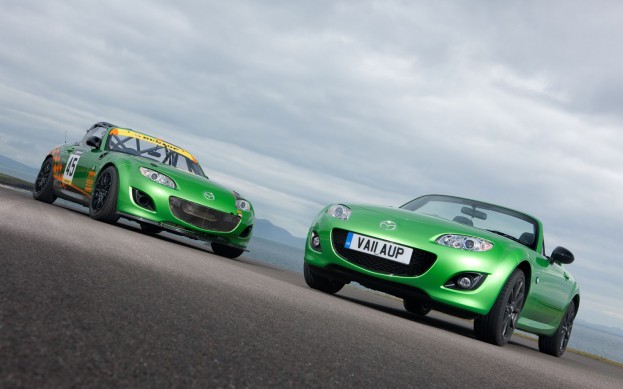 The new limited Black Edition is named after the MX-5 built to race in the UK. The only thing black about it is the PRHT. You also get 17" gun metal rims. Only 500 available and not for the US.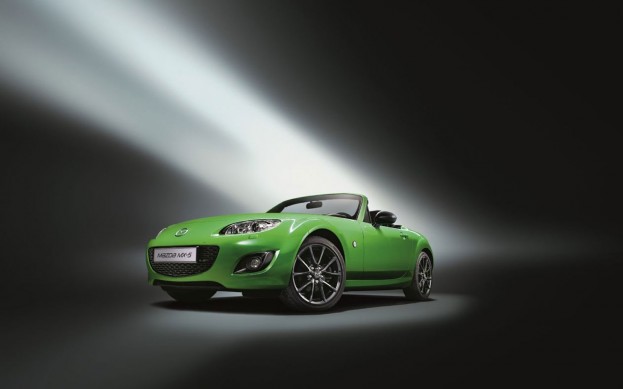 Then there is the Karai which means "sharp" which must be referring to this odd green color. It reminds me of a frog color. Also, limited edition of 165. Let's see, also not available to the US market.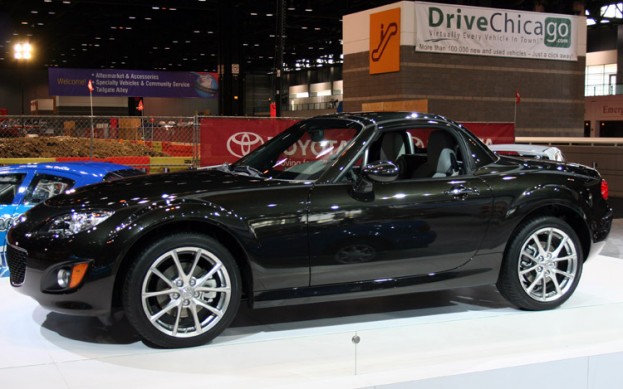 This limited run of 750 was to commemorate the 900,000 sold. And it is available in the US. You get the special black paint and a bunch of extras for free.
Annual picnic with the three Amigos and a Mini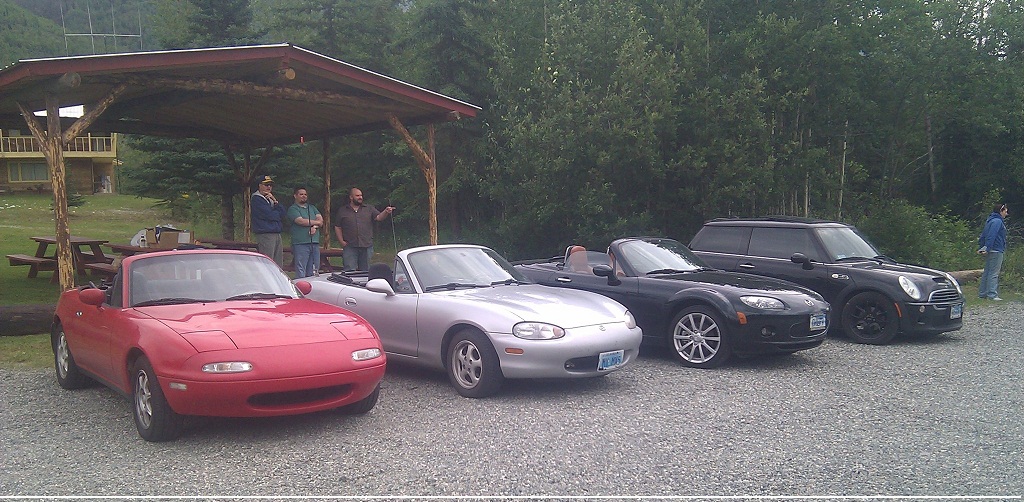 Hot dogs and chips. Mike, Randy, and Chris and Nate showed up with a rare meeting of all generations. JUNIOR, CONNIE, and CHIEF were joined by BOSTON. It started to rain about 2 pm so we called it a day. It was nice to drive a Miata again since JENNY is broke. Randy and Chris got all the good Mazda swag. I hope to see you guys before the season ends.
Thaw Out Run Successful!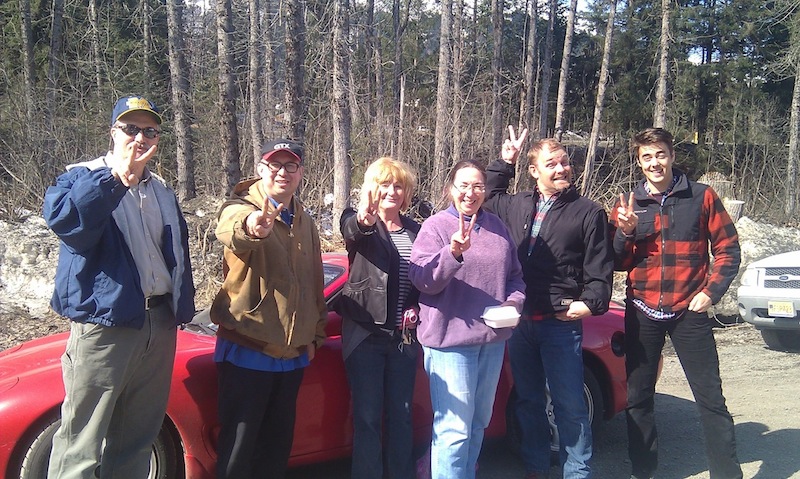 Well, it was a sunny day and it brought out plenty of members, new and old. I want to welcome Rosemary and Bernice, Kevin and Jobe, and Laurie. Other members include Randy, Steve, and Mike. We took pictures and talked Miatas and the surprise was no 1st gens as JENNY needed an alternator. Instead we were very happy with 2 second gens and 2 third gens. It was CHIEF, GYPSY, THE LE, and ?.
April Fool's at Barnes & Nobles.
Three people showed up to the Miata Fool's Meet. Too bad we were all in the same car. I brought the "GTX" to an open and empty parking lot. LOL! The joke was on us. No biggie, it was still cold. We went to dinner and called it good. We hope to see you all this season.
900,000th Miata, but who's counting?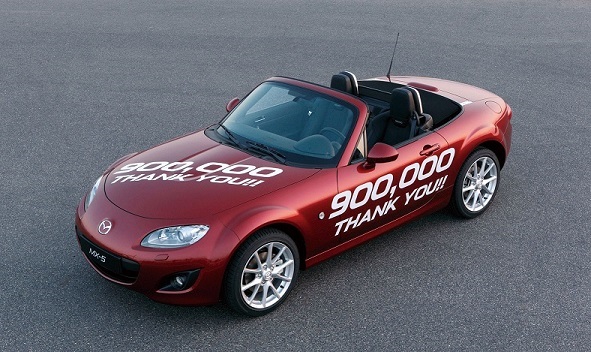 Mazda has petitioned the new record with Guiness as they completed the 900,000th Mazda Miata.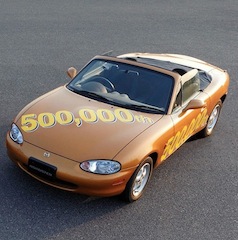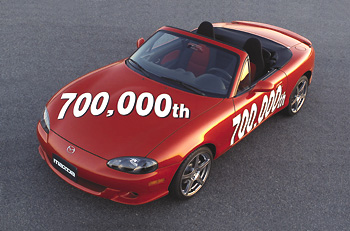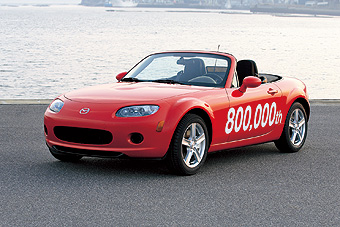 Happy New Year Alaska Miata Club!
Happy New Year! I wish everyone a wonderful season. First and foremost, we are back to the Alaska Miata Club. The Roadster experiment did not work. AKMC plans on representing at local car shows to boost memberships. Only one main event per month due to my new work schedule. Also, the Anchorage and Fairbanks chapters are the only two official chapters due to current membership. Peace!