Leaf Peeper Runs (LPRs)
Even before the AKMC started James had organized and hosted Leaf Peeper Runs to get the SCCA members out on a social event. When James joined the AKMC he continued to host Leaf Peepers which is open to everyone but more and more Miatas showed up. The AKMC looks forward to James' Leaf Peeper Runs and is the traditional last event of the normal driving season. Here are all the runs since #2
Sept 6, 2003: Planes, Trains, and Miatas.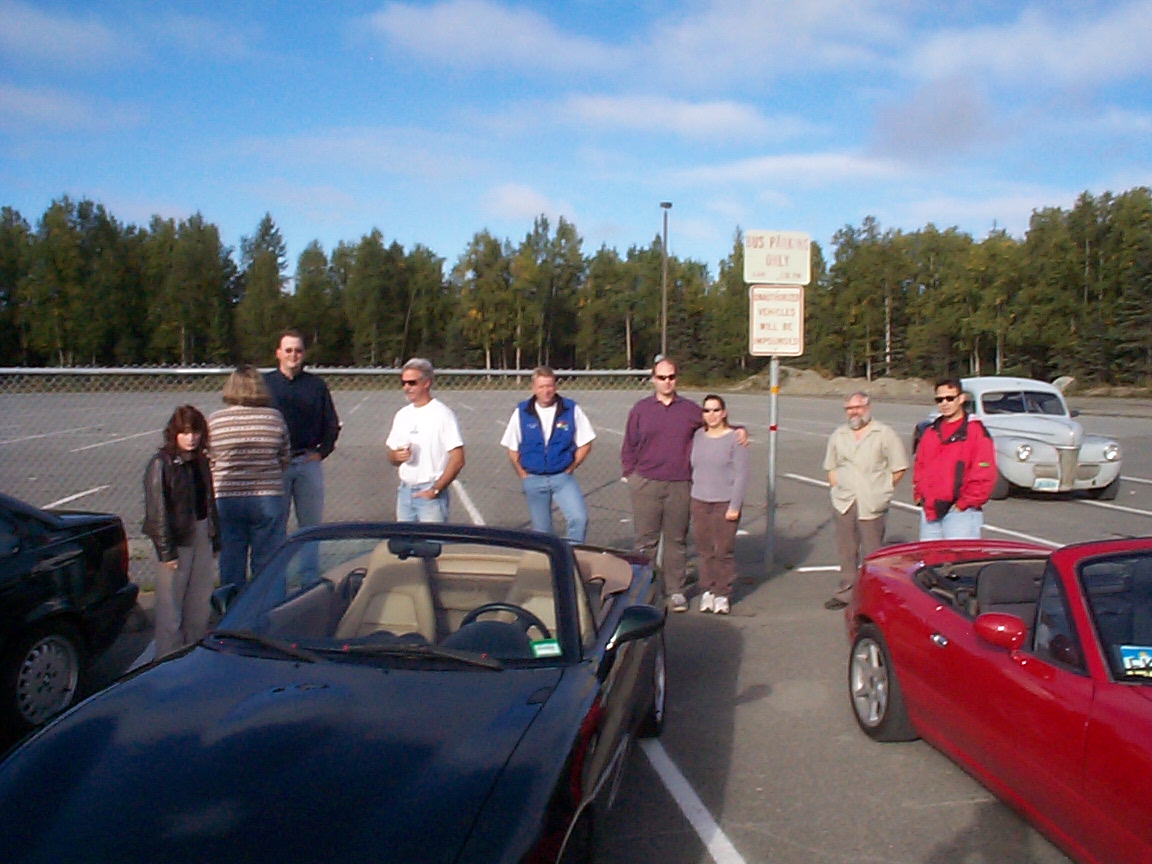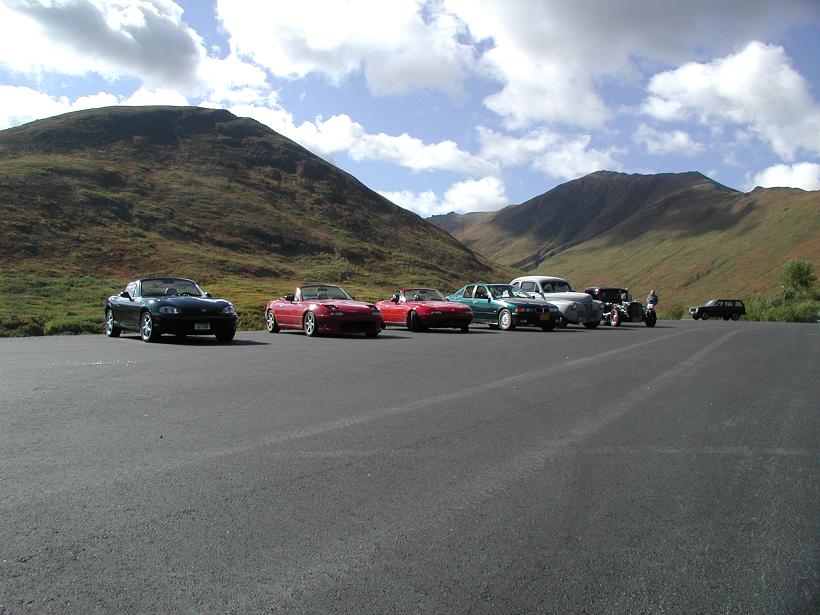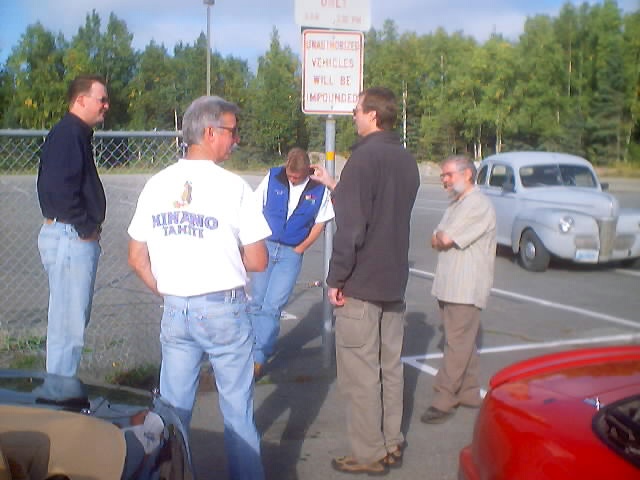 The second Annual Leaf Peeper Run started out with members from several local clubs at Bartlett High School. The SCCA, AKMC, Midnight Sun Hot Rods, and Valley Cruizers all showed up to represent and have a good time. The weather was looking good and James was ready to lead the caravan towards Hatcher's Pass Lodge for lunch. AKMC members present were James, Robin, Brian, Sherry, Mike, KC, along with M2GT, JENNY, and LEELOO. That was two M1's and one M2. Other cars such as a green BMW 318I, Camaro, and old Chevy, and a truck were also present.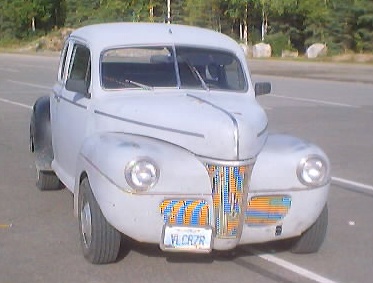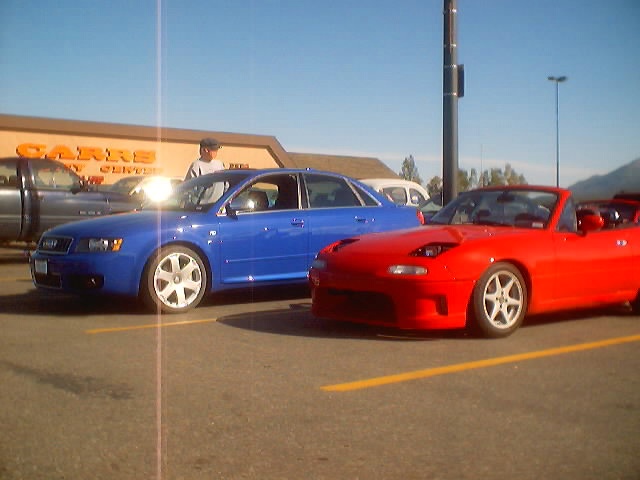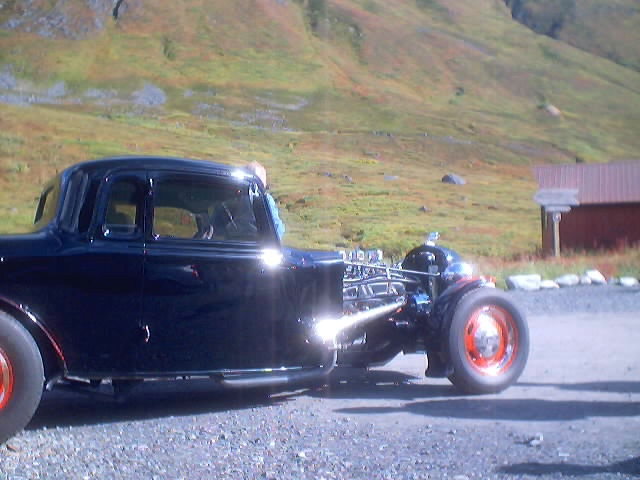 The cruise was going well and we were wondering if it was the same thing in a non-convertible car. I was hoping that they were enjoying as much as we were. We staggered the Miatas so as not to make the mistake it was an AKMC event. This was for all cars to be together on a great sunny day. At Hatcher's Pass we were to meet up with the SCCA Rally crew. At Palmer CARRS we met up with two other cars. A blue S4 and a dodge hot rod. There was always something interesting about all the vehicles and people who joined up.
The lodge was pretty nice but the seating was a bit crowded and we had to split up. This gave some of us the time to chat and get to know each other better. It seems that Anchorage needs a BMW club, as they don't enjoy the support we AKMC members take for granted. I was reminded of why we started the ALASKA Miata club in the first place. I found myself very happy and looking forward to the future AKMC events.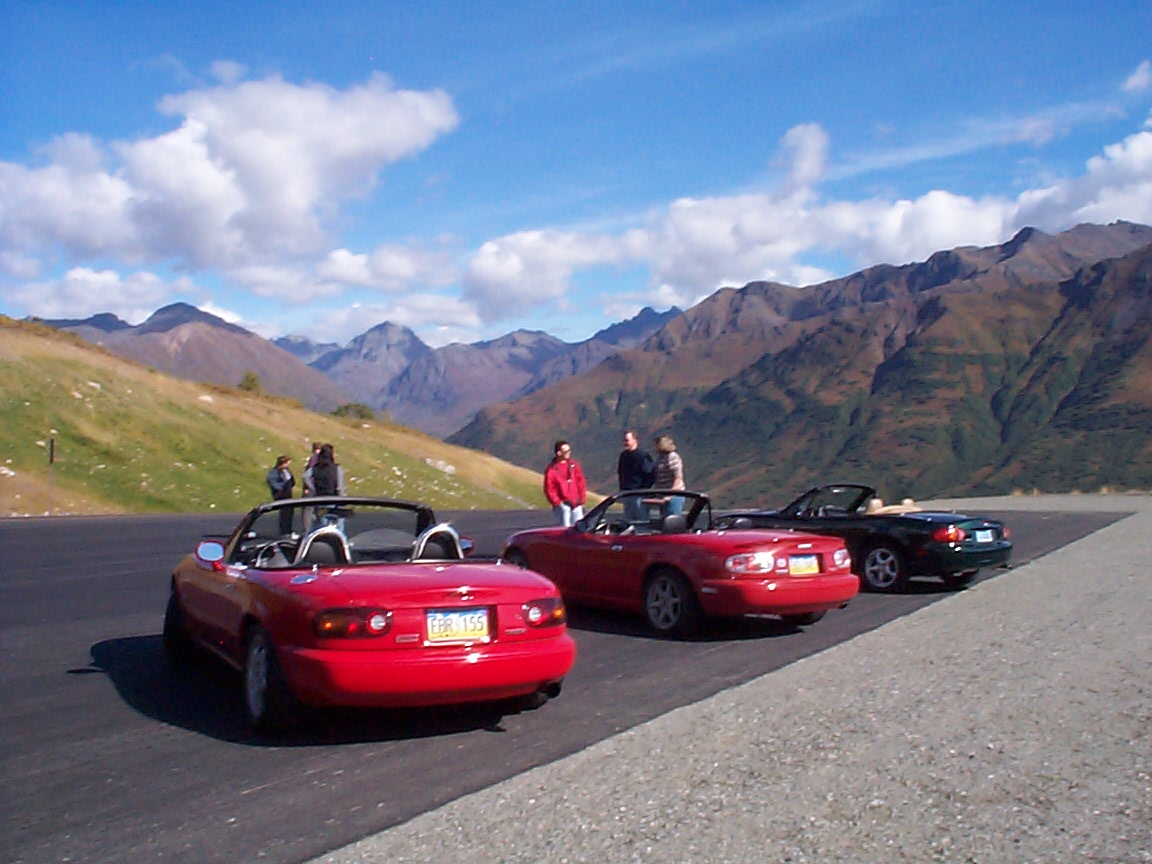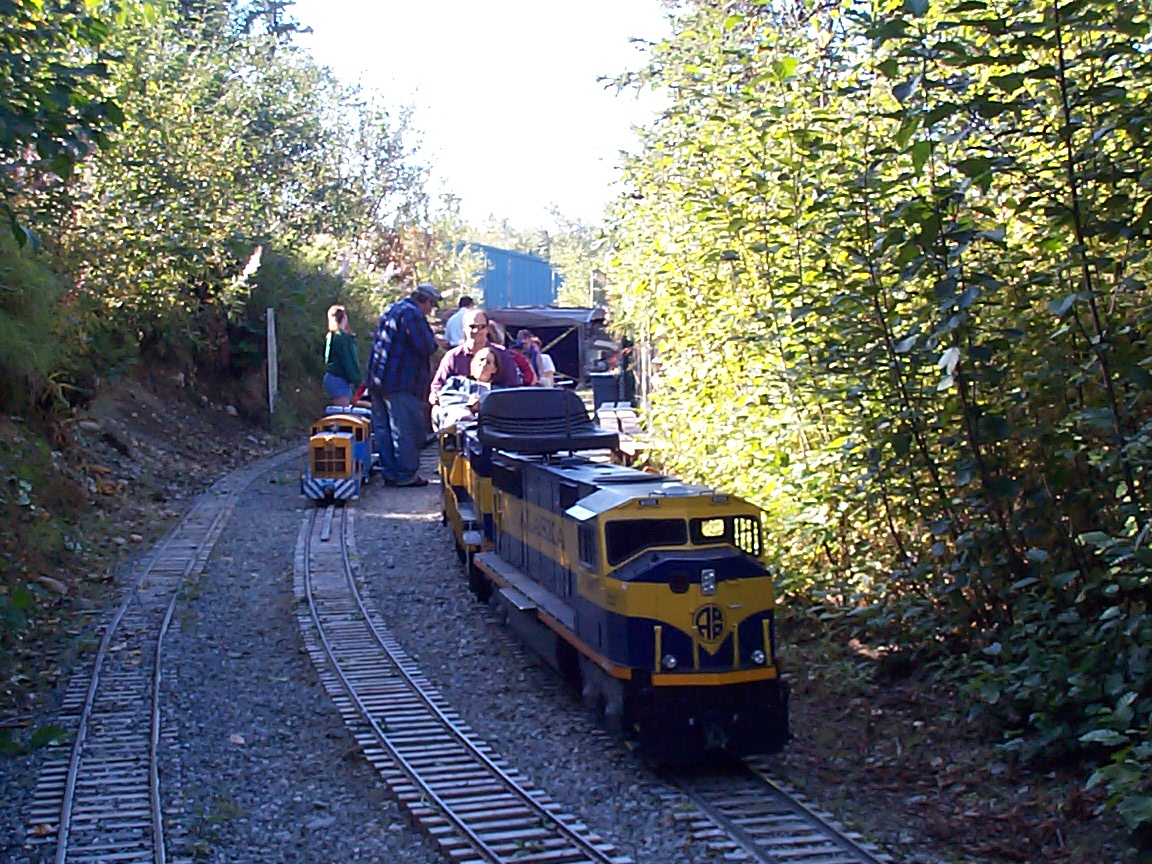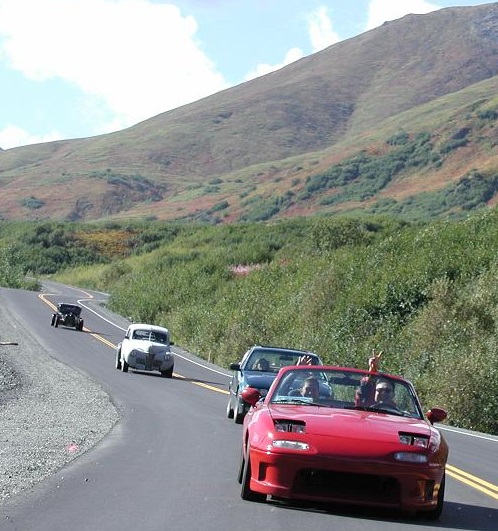 After lunch we started losing people but still headed to the Transportation Museum which I found to be the highlight of this run. Even better than the hamburger at the lodge. For $2 you can ride a 1/8 scale train. The ride was open air and lasted over 20 minutes, it was the coolest thing! If you haven't tried this, you need to try it to believe it. The museum was small but brings you back to the time before Miatas. Snowmobiles, trains, and a few airplanes with other stuff too.
We were down to four cars after the museum. Three Miatas and the BMW. Well, one thing about being a club, we do tend to stick together. Hmm, James had good intentions and we continued the drive back to town to eat at Red Robins for dinner. What can I say? It was a long day with good company. It was fun, I met new friends, and I learned something. I will post more pictures as I receive them from other members. If you have any comments regarding this run please email us at info@akmiataclub.org so we know how to make events even better. You can send images you took to fernande2@yahoo.com. Thanks to James for hosting the run and everyone who sent pictures and feedback. See you next run!
Sept 11, 2004: 3rd Annual Leaf Peeper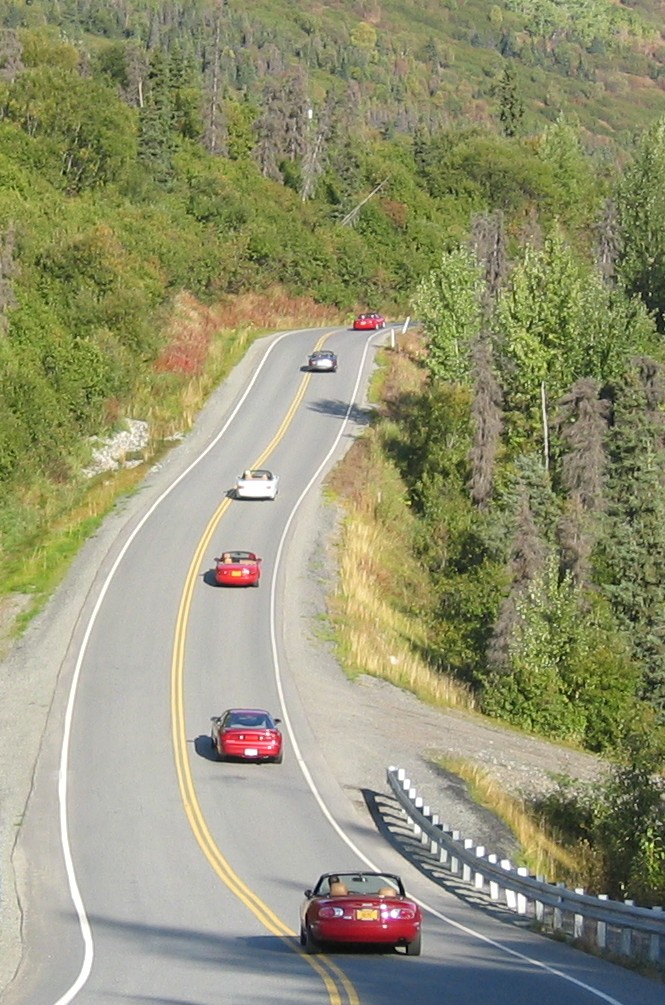 We met up at Continental Mazda on Old Seward at 9 am. A whole car lot of Mazdas were present but only seven Miatas were going to join us with Alex's Probe. James and Robyn, Marilyn, Deborah, Brian and Shelley, Mike, John, Alex, Jon, met Doug and his Red '94. After a brief introduction by James it was clear this was a whole day of motoring fun covering some of the best local roads. Howard and Arlana joined us mid tour.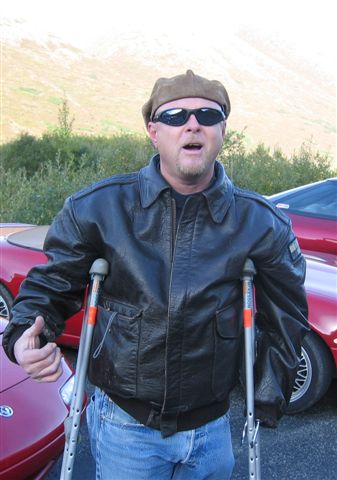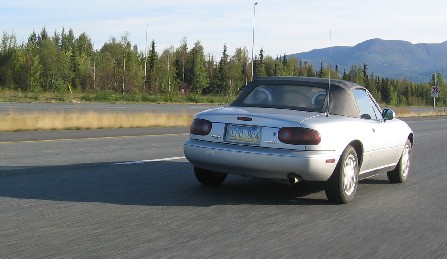 This nine hour tour had many memorable things such as the two Northern Neons, the red Corvette, the silver Miata, and THE traffic jam just to name a few. Seven Miatas had a strong showing as usual and was joined by a silver Miata as we let her in the caravan for a few miles. Anyone give her a flyer? Highland Road, Peters Creek area, and New Eklutna Road were fabulous. Please send in those pictures to me so I can post all of them on this report.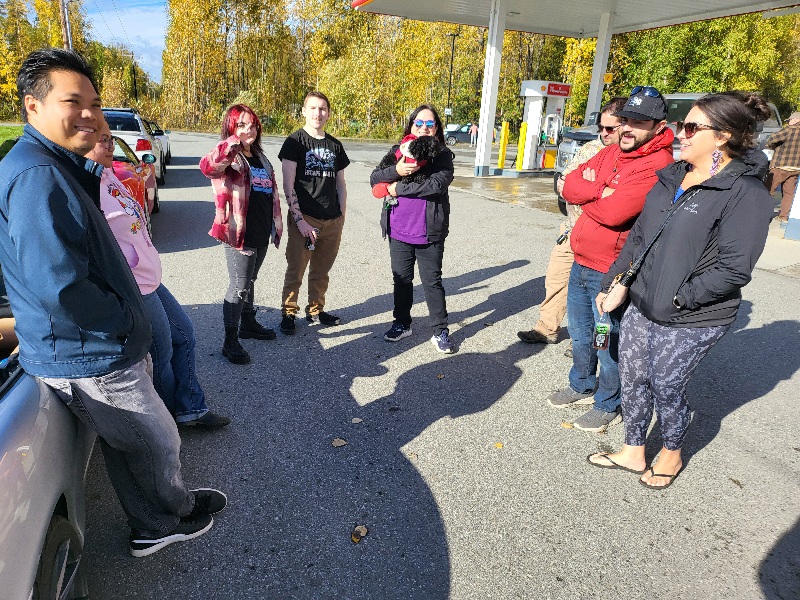 Radio communications worked a bit better this time. We will use them more often next season. Special thanks to James for organizing and hosting this wonderful event. As of now, it will be our last official event for every season. I encourage all of you to consider hosting an event for others to enjoy. It can be as simple as a drive to a destination or as elaborate as Miata Olympics. Remember, members make it happen. Participation is key!
Sept 17, 2005: 4th Annual Leaf Peeper Run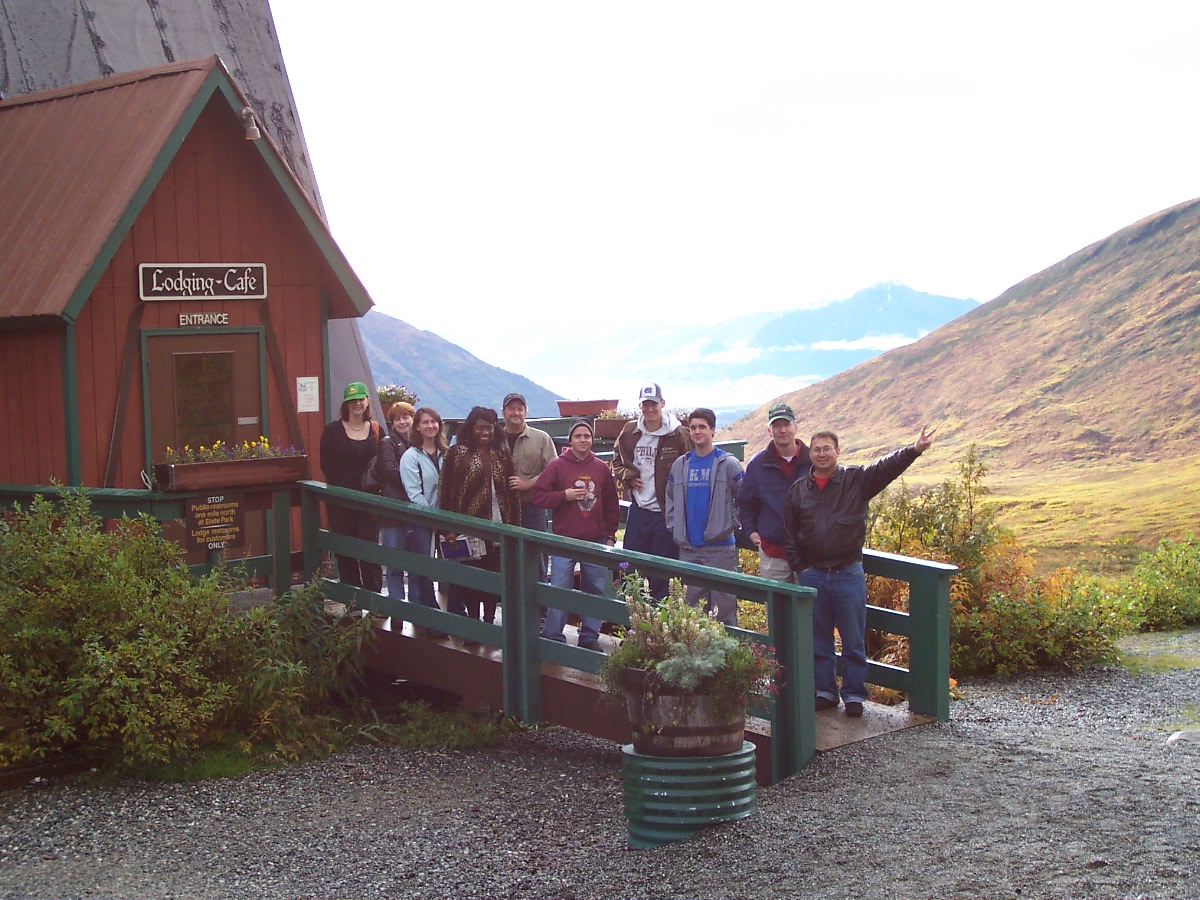 Once again the Leaf Peeper Run was upon us ending yet another wonderful AKMC season. The weather in Anchorage wasn't that great but Palmer had sun which made this run a fun one. Along with James and Robin, was Howard and Arlana and their two daughters, Jesse and Travis, Mike and Eric, Steve, Deborah, and Don and Martha. Everyone finally saw RADIKA which turned out to be a 2005 Velocity Red MSM (Mazdaspeed Miata). Other Miatas included a 2004 Titanium Silver MSM, M2GT, LGM, SALVO, and SCRUFFY. OTMs include the Mazda 323 GTX.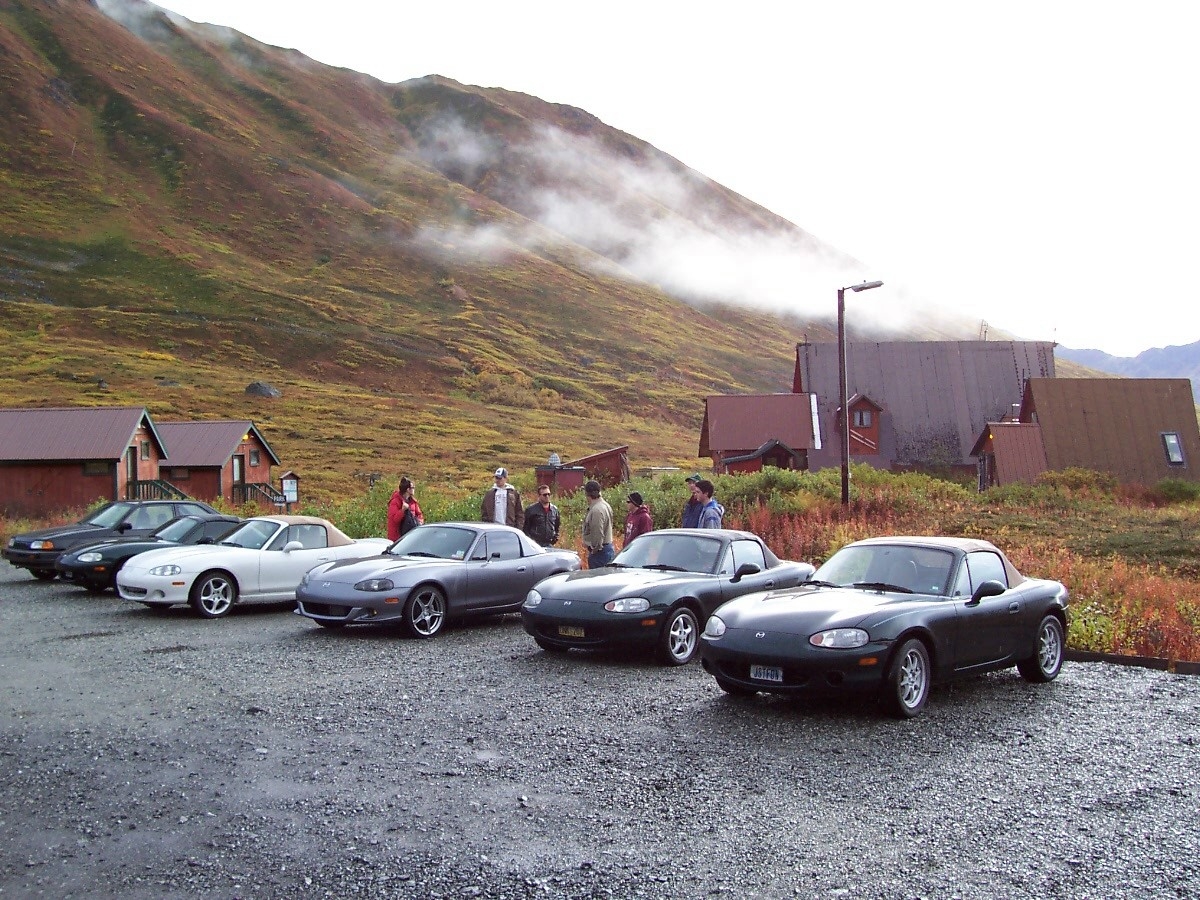 2006: No Leaf Peeper Run
2007: Blake's Leaf Peeper Run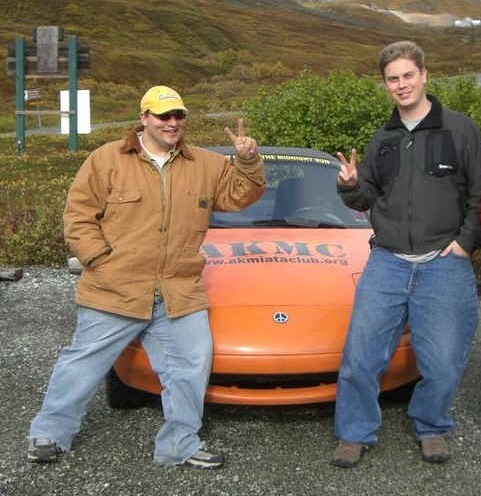 This was a small Leaf Peeper Group with Blake and Smurf. It must have been scheduled late with no email reminder. We continued to show Blake the Leaf Peeper anyways.

2008: None
2009: Leaf Peeper with Goldwing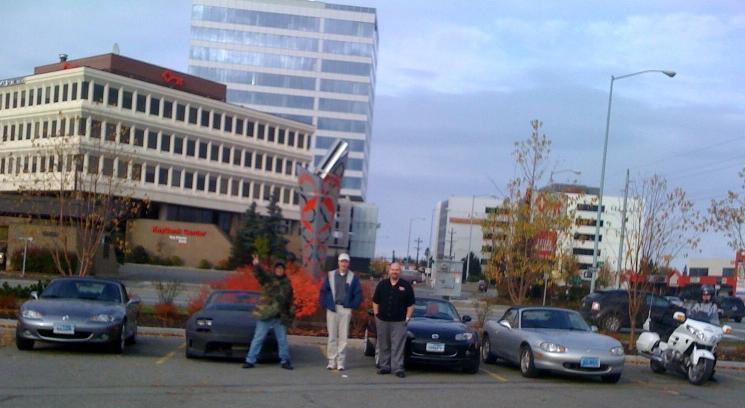 Marilyn (taking pic) and KAZOOM, Mike and JENNY, Randy and CHIEF, Chris and CONNIE, and Nate and his Goldwing
Well, here we are again. It was 10 am at the Barnes & Nobles parking lot and I was the only one there in JENNY. It looked like yet, another cancellation for another "Official" AKMC Event. But the 20th Anniversary of the Miata Season as a whole was not a total failure. We had the Annual Potluck Picnic at Eklutna with prizes and the quick Lodge Run to Hope. It still makes one wonder what makes Alaskan Miata owners tick. Just then, a Metallic Green NC rolls into the parking lot. Whoa! Randy and CHIEF never fails to surprise. Then look a Silver NB! It could only be Chris and CONNIE. Looks like all I had to do was relax and be patient as a familiar Titanium Grey Shinsen Edition, KAZOOM drives up with Marilyn. Marilyn wasn't going along this time but tradition allows her to send us off. This was okay since we had three Miatas to start the last event of the season, the Leaf Peeper. I called Blake and he and SMURF were gonna meet up with us in Palmer. Also as a final surprise was Nate joining us on his White Goldwing motorcycle, a first in AKMC history. Oh, I almost forgot that we all ate at the Noisy Goose Cafe in Palmer since the Motherlode was closed.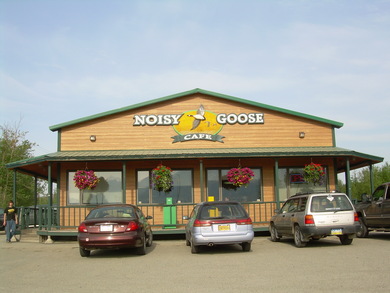 Noisy Goose Cafe Palmer